The Archos 97 Titanium HD Multi-Touch Screen Android Tablet is the mobile device for you to have and enjoy.
Introducing the Archos 97 Titanium HD, with its super HD screen, dual-core processor and complete access to the Google Play store and Google apps. At just 0.35" thick and weighing only 22.5oz it's the perfect tablet for your Android experience. Armed with 4.1 Jellybean, you can access virtually every Android app, including sophisticated games – all from Google Play.
The super HD resolution (2048 x 1536) delivers sharper text and images so you will see every detail of your pictures and videos. Thanks to IPS technology the 97 Titanium HD has extra wide viewing angles to make sure that you can share your tablet experience in every situation with sharp, truly vivid colors. Having both front and back cameras make the Archos 97 Titanium HD great for not only video calling but also for capturing those can't-be-missed moments with your tablet.
Price: $313.97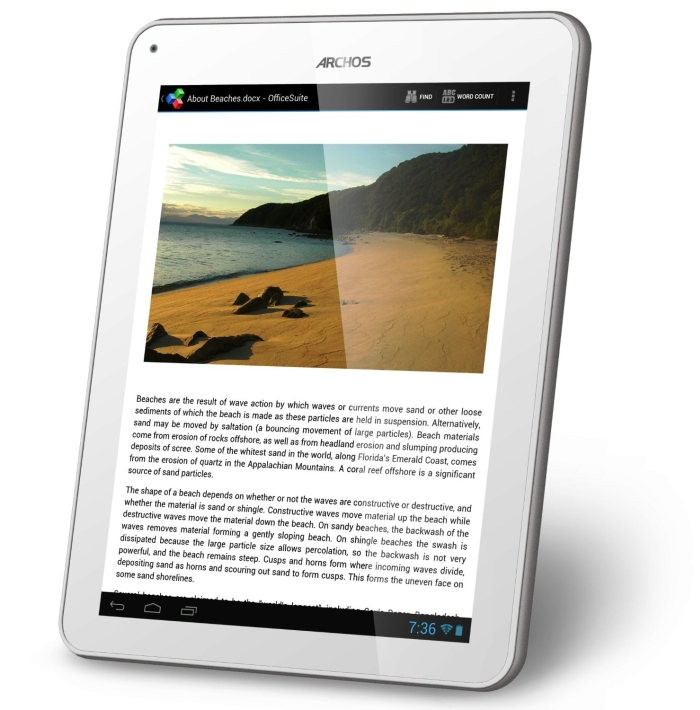 The Archos 97 Titanium HD runs Android 4.1 Jelly Bean' for tablets so includes all the improvements that come with Android Jelly Bean' including even smoother interface animations, voice assistant and Google Now that shows you the right information at the right time. With full access to the Google Play store the Archos 97 Titanium HD includes DRM support for downloading books, magazines, music, movies and TV shows.
Whether it is from the over 600,000 apps and games, millions of music tracks, thousands of movies and shows or millions of books and magazines, Google Play has the content for you.
The Archos 97 Titanium HD also includes access to all the Google designed Android apps; whether it's to keep in contact via Gmail, Google Talk and Google+ (with multi-user video calling), planning a trip with Google Maps, reading web pages in a magazine format with Google Currents or accessing your content on the cloud with Google Drive including 5GB of free.