Light & Motion Urban 180 Light
The Light and Motion Urban 180 Light is a self-contained unit, as sleek as it is efficient. With the battery and the lamp built into one, you won't have to fuss with cords and batteries to get it mounted on your handlebars, and it won't look cluttered or reduce the space on the tops of the bars for your hands. When it comes to recharging it, you'll simply connect the included USB-Micro charge cable into the lamp unit on one end and into an open USB port on the other.The Urban 180 produces 180 lumens. While not as bright as its 300 lumen big brother, it casts enough light to help you see and be seen as you ride on the bike path or unlit city streets. Like the Vis series, Light and Motion's Urban lights have amber side lights to increase your cone of visibility, adding to your safety.
Price: $100.00
Sale: $60.00
You Save: $40.00 (40%)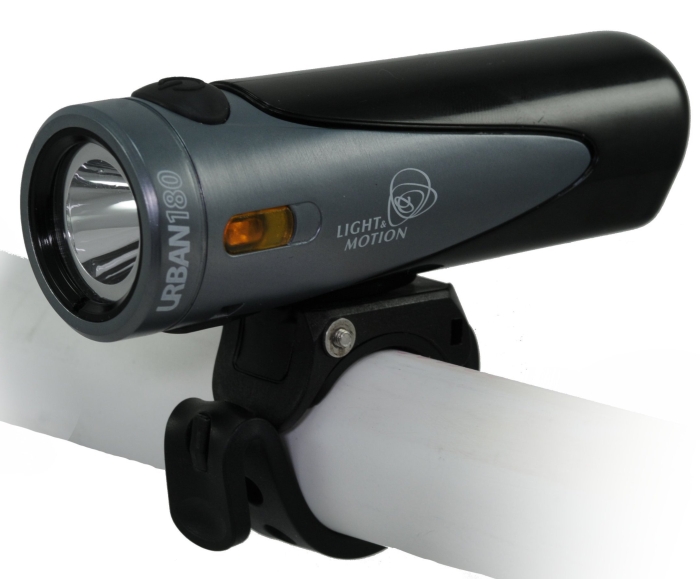 Accident data tells us that most car/bike accidents occur at intersections, and not surprisingly, with cars turning into or across cyclist's paths as they thread their way through the intersection. So the more light you can project in all directions, the better. The Light and Motion Urban 180 Light will run for 2.5 hours on the high setting and for 5 hours on medium. The lowest setting stretches the battery life out to 10 hours, and once it's dead a complete charge requires 5 hours. It's designed to be mounted onto your handlebars and comes with a rubberized, tool-free strap that secures the light in an instant.