Bang & Olufsen BeoSound 5 Encore Digital Music System
For me Bang & Olufsen equal very expensive audio gadgets. Now, they just launch an affordable digital music system: only $3350…
BeoSound 5 Encore is a digital music system that allows for easy navigation to one's preferred digital music library, access to over 13,000 internet radio stations (monitored and constantly updated automatically by Bang & Olufsen team). BeoSound 5 Encore acts as an all-consuming sound hub with content conveniently and instantly arranged by album, artist, track, or 'favorites' category. It can be used as a stand-alone audio system or in a multi-source/multi-room application.
BeoSound 5 Encore features a 10.4″ full graphical display and a magical wheel that easily scrolls through even the greatest of music collections at the spin of a finger.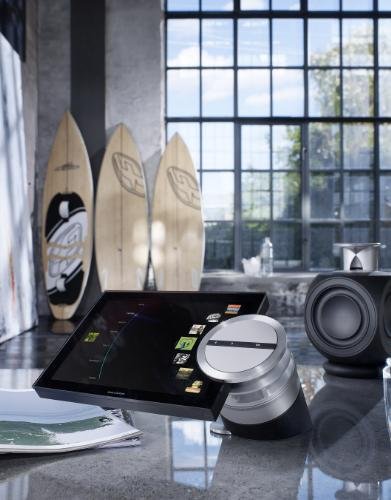 In addition to internet radio, BeoSound 5 Encore can browse and play music from a plethora of sources like a connected hard disc, a NAS server, a computer, a USB stick or a handheld device.
You (if you are so rich to afford this system…) can connect up to eight BeoSound 5 Encores to the same server, with the added benefit of being able to play different music content in different rooms at the same time. Resulting in less arguments with the family about what to listen to, and where. Everyone can simultaneously enjoy their favorite tunes in the comfort of their own room, be it internet radio or digital music files, and the music is still stored in one place.
The patented MOTS 'More of the Same' algorithm, is an award-winning Bang & Olufsen technology. It automatically captures the unique musical identity of a track and then builds a playlist of similar music – based on parameters such as sound, dynamics, and rhythmic aspects of a particular track.
Being the intelligent playlist of the future, MOTS automatically generates a playlist when the user accesses the content of a USB or WLAN/LAN connected device, leaving the end user with more time to rediscover the music collection, instead of manually having to select a number of tracks every time. It is a fast and convenient way to set the musical scene for any mood or setting, (i.e. a dinner party or a laid-back evening on the couch). Additionally, the customer can select a particular favorite playlist offered by MOTS, by simply saving the track initially selected, and then the customer can listen to the specific playlist whenever desired.
BeoSound 5 Encore is available for purchase in all Bang & Olufsen showrooms in August 2011. It retails at $3350.00.