Are you looking for a cheap 3D Digital Camera? This generic one 3D device is affordable and it is a nice to have 3D toy.
This compact shooter uses two lenses to captures photos in full 3D and display them on the built-in glasses-free 3D LCD display. Similar to the technology used in the Nintendo 3DS, the 3D View Digital Camera uses parallax barrier technology to deliver a separate image to each eye creating vivid 3D. You can adjust the 3D setting to make images pop out of the screen, or view everything inside the screen as if looking through a 3D window frame. Of course you can kill the party and go back to boring old 2D at the push of a button.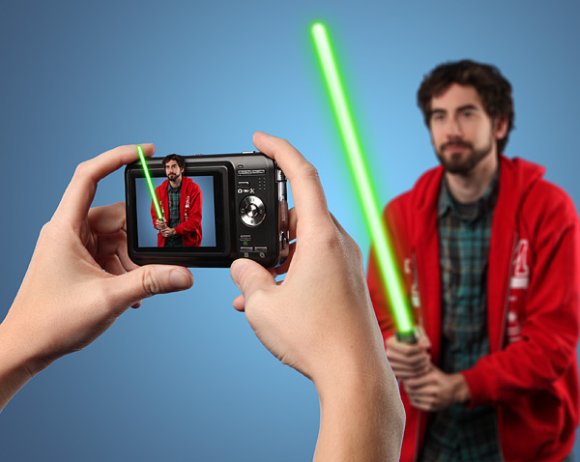 You can shoot still images up to 5MP or capture 720p HD video in full 3D of course. Finally you can create your own 3D content and give that expensive 3D TV you purchased a reason to exist in your living room.
3D View Digital Camera Features
3-D Camera features built-in glasses-free 3D display
Shoot 5MP still photos or 720P video in 3D
Two lenses and dual image sensors for shooting in 3D
View 3D images on built-in parallax barrier LCD display. No glasses required.
Built-in HDMI output
Switchable between 2D and 3D shot mode
3D Images/Video can be uploaded to YouTube 3D, viewed on 3D digital photo frames, or viewed on 3D Televisions
Buy it now from ThinkGeek at 79.99USD $199.99 (save 60% and on top of this discount, you can use the code SHIP40 to get FREE SHIPPING )
3D View Digital Camera Specifications
Built-in Display: Glasses free 2.8 inch parallax barrier TFT-LCD (Switchable between 2D and 3D)
Sensor: 1/2.5 inch, 5MP CMOS sensor
Shooting mode: 2D/3D switchable
Lens: Two fixed focus lenses, F1:3.2/f=7.5mm
Lens pitch: 50MM
Focus: 7.5mm
Aperture: F3.2
Shutter: Electronic
Shutter speed: 1/10 sec. – 1/1000 sec.)
Focus Range: 1.5m to infinity
Digital zoom: 1x–8x (The digital zoom does not work in 3D mode)
Photo resolution: 5 mega pixels (12 mega pixels by interpolation)
Max video resolution: HD 720P (1280 X 720 X 30FPS)
Picture format: JPG
Video format: AVI (H.264)
Picture resolution: 12MP(4048×3040,interpolation), 8MP(3264×2448,interpolation),5MP(2592×1944),3MP(2048×1536),1MP(1280×960)
Video resolution: HD(1280×760), WVGA(848×480),QVGA(320×240)
Video frame rate: 30FPS
Self-timer: 2/10/20 seconds
Flash strobe: Auto,forced,Off
Flash work Range: 1.0m–2.0m
Exposure: Auto
White balance: Auto/Daylight/Cloudy/Bulb/Fluorescent
EV: +/- 2
ISO: 100
3D Depth of Field Adjustment: -30 to +30 parallax adjustment
Anti-shake: Electronic anti-shock
Continuous shooting support
Beep: On/Off
Auto power off: 1 minutes / 5 minutes after no any operation
Menu language: English/Simplified Chinese/Traditional Chinese/German/Japanese/Korean/Italian/Arabic/French/Russian
TV system: PAL/NTSC
Frequency: 50Hz/60Hz
Built in storage: 9.96MB
Additional storage: Micro SD card up to 16G (not included)
Output interface: TV-out, HDMI, mini USB
Internal battery: 1150mAh lithium battery (included)
Power adapter: Input: 100-240V/50-60Hz,0.2A Output: 5V, 2A
Dimensions: 110 x 70 x 20mm
Weight: 127g
Operating system support: Windows Vista, Windows XP, Windows 7, Mac OSX