SIGGRAPH 2011 Art Gallery
SIGGRAPH 2011 takes place 7-11 August at the Vancouver Convention Centre. From more than 300 submissions, the Art Gallery jury selected 16 pieces to be featured at SIGGRAPH 2011. These include 2D images, audio, video, as well as novel data-driven and mixed-media installations.
Works exhibited in the Art Gallery are published in a special issue of Leonardo, the Journal of the International Society of the Arts, Sciences and Technology.
Let's browse those pieces.
1. 0h!m1gas: biomimetic stridulation environment by Kuai Shen Auson (Academy of Media Arts Cologne)
0h!m1gas is a biomimetic stridulation environment based on the activity of an ant colony, under video and audio surveillance. The system archives the ants' movements and sounds inside a digital matrix. A pair of turntables constantly reacts to the colony's activities by spinning vinyl records and producing scratching sounds, similar to the original stridulations of the ants. Ants stridulate, human DJs scratch. This creates a sound-reactive space that reveals the connection between scratching, as an aesthetical expression created by human culture, and the stridulation phenomenon produced by ants as a modulation mechanism for communication.
2. Hildapromenade 4 by Philipp Engelhardt (HFG Karlsruhe)
Philipp Engelhardt is a "magician" who had an idea to animate eight polaroids that he found on the street. The result was an animated photo album narrating a new story in a new context. He combined, reconstructed, and repeated his own graphical material and the collected jetsam of pictures to reveal them in a new context. To the observer, the visible alterations in the picture are not immediately apparent; the manipulation is seen as the reality it superposes.
3. ItSpace by Peter Michael Traub (Independent Artist)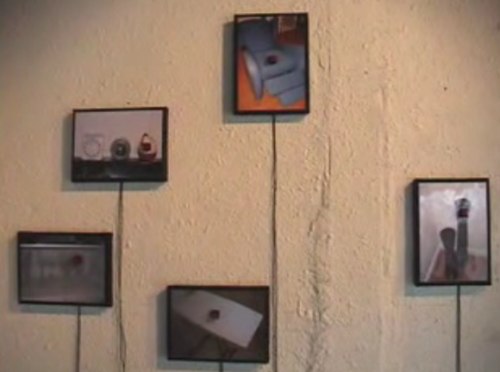 This wall-mounted interactive installation generates miniature pieces of music composed from the sounds of objects from around the artist's house. Visitors press buttons mounted in photographs of the objects to generate the pieces, and they are invited to mix and match objects as they please.
4. Memoirs by Yunsil Heo and Hyunwoo Bang (Seoul National University)
Memoirs is an interactive installation that depicts humanity's struggle to invent home appliances in pursuit of happiness. It is composed of a custom Polaroid camera atop a TV. As you approach, the camera takes a picture by recognizing your face. While a physically simulated photo paper falls down inside the virtual interior of the piece, digital data travel halfway around the earth to a web server. Like bringing films to the printer, taking a card with a printed web address from a stack creates a space in which to reminisce about the good old days.
5. MOSTON by Anya Belkina (Emerson College)
A 12-foot-tall suspended inflatable sculpture, MOSTON conjures a technology-driven amalgamation of Moscow and Boston with its three-dimensional form of mutated Russian nesting dolls and two-dimensional surface design of printed artwork and documentary footage projection.
6. Open House by Patrick LeMieux (Duke University) and Jack Stenner (University of Florida)
Open House is an installation that allows visitors to telematically squat in a Florida home undergoing foreclosure after the US housing collapse. Virtual markets transformed this otherwise livable property into a ghost house. Prior to the collapse, movements of global capital seemed like a distant reality, but it was imaginary systems of value, not bricks and mortar, that asserted ultimate authority. Open House temporarily resists eviction by mirroring the market and creating hybrid subjects who occupy both virtual and physical space. Cross the threshold, open the door, flicker the lights, and rattle the shutters.
7. Reveries and Line Drawings by Georgia Wall (School of the Art Institute of Chicago) and Nick Bastis (University of Chicago)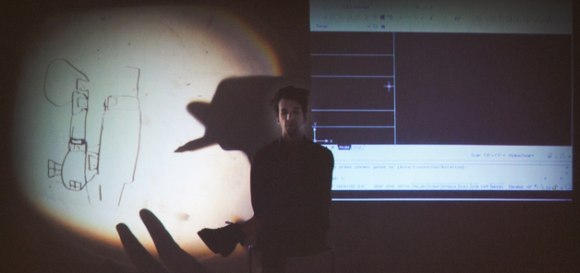 In Reveries and Line Drawings, a projected video piece first shown at the School of the Art Institute of Chicago's New Blood Exhibition, stored spatial reveries can be recalled and represented using both analog and digital technologies.
8. RolyPoly by Design Incubation Centre (National University of Singapore)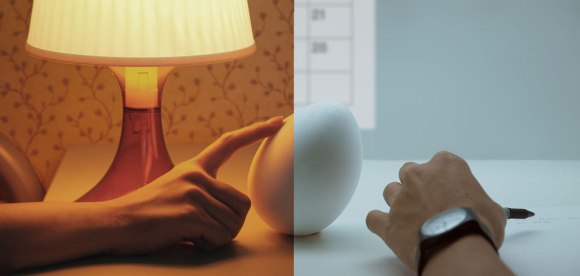 RolyPoly enables two individuals to "sense" the presence of each other even though they may be physically apart. This is achieved through the mirrored movements in a pair of RolyPolys. A gentle tap to rock one RolyPoly simultaneously rocks its partner RolyPoly to the same degree. Likewise, a sudden shake and rattle in one instantly produces a corresponding reaction in the other.
9. tele-present wind by David Bowen (University of Minnesota)
This installation consists of a field of x/y tilting devices connected to thin dried plant stalks installed in the gallery, and a dried plant stalk connected to an accelerometer outdoors. When the wind blows, it causes the stalk outside to sway. The accelerometer detects and transmits this movement in real time to the grouping of devices in the gallery.
10. The Garden of Error and Decay by Michael Bielicky and Kamila B. Richter (HFG/ZKM Karlsruhe)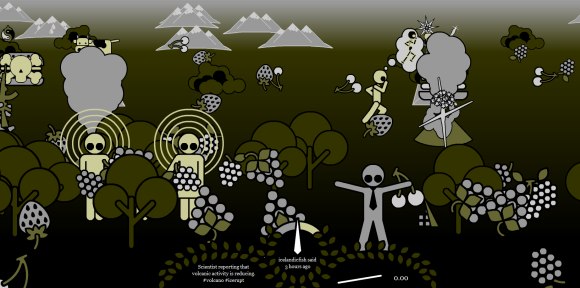 In this data-driven narrative of current world disasters, the artist, Twitter users, and stock-exchange information all influence the storytelling.
11. The Insatiable by Jawshing Arthur Liou (Indiana University)
The Insatiable is a video installation composited from a dozen sets of footage filmed during an open night market in Taiwan. It is part of the Things that are edible series. The visual strategy is a fusion of macro and micro views. Originally from Taiwan, artist Jawshing Liou filmed this video during his recent artist residency in Taipei. The street scenes are only half a mile away from his home.
12. Third Skin Andrea Zapp (Manchester Metropolitan University)
Third Skin captures imagery of our social, digital, or urban neighborhoods and interiors, and transfers them to fabric and dress design. It plays with Marshall McLuhan's idea of "clothing being an extension of skin, in the way that media are an extension of the body". Photography, surveillance, and online footage become the source for hand-manufactured dresses as media narratives. They map the collective and shared (image documentation, digital and physical scenarios and objects) onto the domestic: a one-off garment as individual statement and choice.
13. Tomorrow will get better by Matthew Cox (Independent Artist)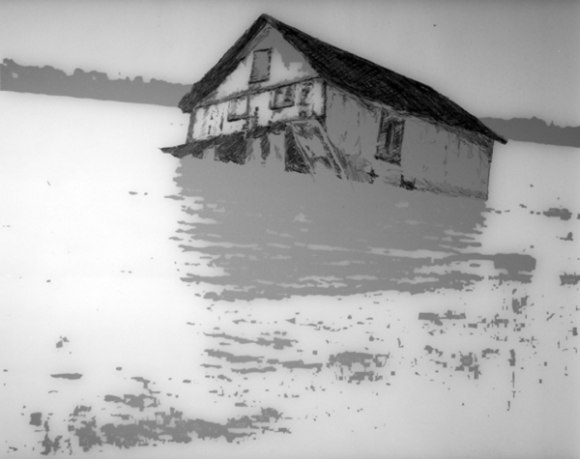 A graphite drawing and laser-cut paper series of homes destroyed by various natural and man-made disasters.
14. Transplant by Heidi Kumao (University of Michigan)
Transplant explores the lives of Japanese nationals and citizens who were interned in War Relocation Centers in the dusty desert of California during WWII, and how they cultivated gardens as a creative outlet to survive their confinement. Despite the horrendous conditions, residents of these "camps" constructed beautifully landscaped parks, ponds, and rock gardens. Transplant pays homage to their ingenuity and personal drive to transform gravel into gardens, altering their built environment as an act of defiance.
15. Travel Stones by Jacquelyn Martino (IBM T.J. Watson Research Center)
Travel Stones are fictitious cultural artifacts presented in the style of a museum exhibit. The imagined culture derives from an ancient people who carry their travel stones, like house keys, as a way to access their home center that is ultimately more spiritual than physical. Passed from generation to generation, the stones further serve as resonant objects in the tracing of the people's history. Prompted by the drawings on the stones, the ancients recount tales of their origins to the next generations as well as to those they meet in travel.
16. Wait by Julie Andreyev and Simon Overstall (Emily Carr University of Art + Design)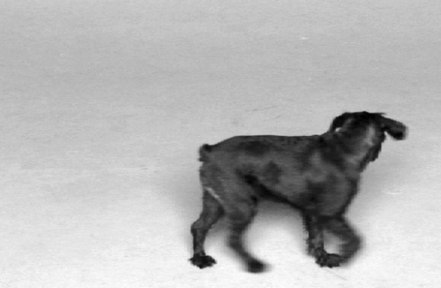 The companion-species relationship is the starting point for the critique explored in Wait. Human and canine communication methods are brought to bear within this interactive video installation. Taking cues from the movements of the visitor, the dog (as imaged in the video) points to the relationship of control. The dog appears to be waiting for direction; as the dog looks directly at viewers, a state of suspended agency is implied, and viewers are compelled to ask questions about their relationship to the dog. Wait was produced in co-production with the Banff New Media Institute.