"Echo Free" USB-to-Phone Adaptor
CuPhone today announced its "Echo Free" USB-to-Phone Adaptor. This small adaptor, when plugged into the USB port of a PC, allows the user to plug his regular phone into the RJ11 port on the adaptor to make and receive either Skype or normal landline "echo free" calls.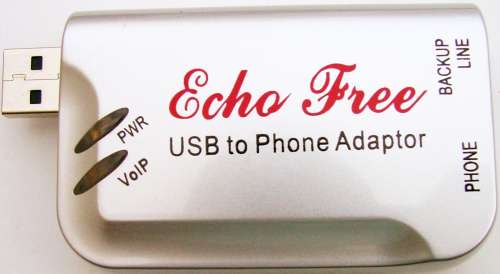 The "Echo Free" Phone adaptor is based on TigerJet Network's single chip VoIP solution, the Tiger580, which has built-in Echo Cancellation hardware, SLIC/Phone interface and a 16-bit audio codec. With built-in echo cancellation hardware, the audio quality is significantly improved over the software echo cancellation alternative since, with software echo cancellation, audio quality is dependent on many factors, including PC performance and network delay.
Virtually everybody that uses Skype also makes and receives normal telephone calls. CuPhone's adaptor enables all types of calls to be handled using one piece of equipment and this piece of equipment can be, for example, the cordless phone that was the user's preferred phone before VoIP even existed. Also with the CuPhone adaptor, family members on different phone extensions can be on landline and Skype calls simultaneously, effectively providing a second phone line at no cost.
Skype has attracted more than 47 million users around the world who use the service while they're sitting at their PCs. They have lowered their phone bills but the price has been inconvenience and inconsistent audio quality. CuPhone's "Echo Free" adaptor eliminates the major audio quality issue, "echo," and the inconvenience due to having phone equipment dedicated to making and receiving Skype calls.
This product supports Skype Caller ID, Skype speed dialing and ringing for incoming Skype Call.
The CuPhone's "Echo Free" phones are plug-and-play compatible with WinXP, Vista, Linux and MAC operating systems. Moreover, all popular VoIP applications such as: Skype, SIP, H.323, Delta3/Iconnecthere, Net2Phone, DialPad, MSN, X-ten, are supported
It can be purchased for $34.