Users will be able to conveniently watch TV programs on-the-go by simply plugging the ASUS My Cinema – U3100Mini into a USB slot. Without the need for any external power adapter, the unique built-in ASUS Pop-Up TV technology will instantly display TV channels without requiring manually launched programs – making watching TV programs on the PC or laptop even easier.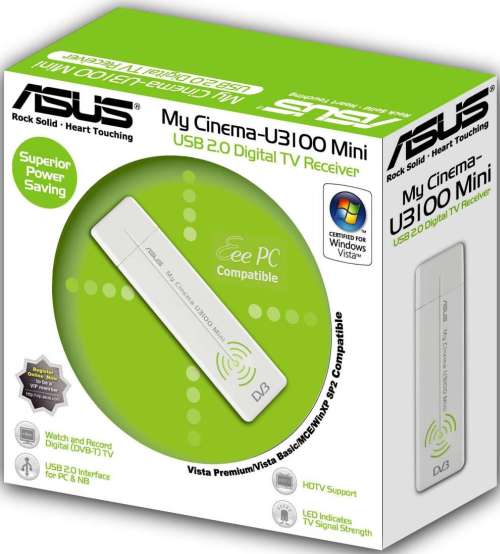 Furthermore, this TV tuner is also fully certified for use by the ASUS EeePC, and is the perfect companion to the Eee PC with its pearl-white, small and compact frame; and is fully compatible with Microsoft Vista Home Premium, Vista Home Basic, Vista Ultimate, and Windows XP platforms.
With the ASUS My Cinema-U3100Mini, users will be able to watch and record high-quality digital (DVBT) TV programs on their PCs or notebooks anywhere. It also incorporates the latest built-in TV chip for superior power savings that helps conserve electricity to help save the environment. Able to support receiving and recording of MPEG2 and H.264 TV programs, this USB digital TV receiver also utilizes LEDs and ASUS' TSSI Technology for quick TV signal strength recognition – allowing users to easily find the best spot for watching TV programs.
TV System

DVB-T

Interface standard

USB2.0

OS supported

– Linux Debain 4.0 or above for EeePC

– Microsoft Vista Home Premium

– Microsoft Vista Home Basic

– Microsoft Vista Ultimate

– Microsoft Windows XP

Entertainment

– Digital TV watching

– Scheduled recording and Time-Shift supported

– Video editing, and burning into DVD / VCD

– Music collections listening

– DVD / VCD playing

– Video & pictures sorting

Accessories

– External antenna cable

– MCX adaptor for connectivity with roof antenna

– Driver / Utilities / User manual CD