SANYO PLC-XW60: Smallest and Lightest XGA LCD Projector
The SANYO PLC-XW60 introduces the industry's smallest compact body at only 10.4 (W) x 2.17 (H) X 7.40 (D) inches (not including protrusion parts).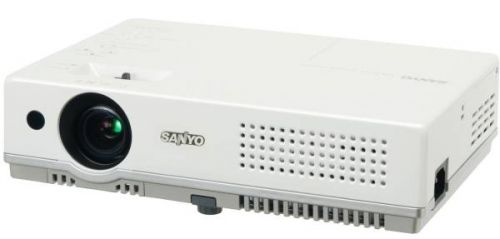 Contributing to the ultra-small dimensions, SANYO developed new, lighter, miniaturized optical components, reduced the lamp size by 39% by using an optimized reflector and reduced the lens weight by 44% by adopting a new aspherical plastic lens. The reduced size and weight opens up new opportunities for on-the-go projector use in business, entertainment and education markets.
The projector is capable of projecting an extremely large image from short distances. For instance, a 100-inch image is possible from only 9 to 11 feet away, enabling the PLC-XW60 to be used in very limited spaces. Additionally, the PLC-XW60 offers simple setup functions such as a built-in sensor that automatically searches for an available input signal and automatic keystone correction for use in a wide variety of locations and situations. The projector's guidance display allows users, either novice or experts, to quickly setup and operate the PLC-XW60.
Other Specifications
Brightness: 2000 lumens
Resolution: 1024 x 768
Aspect Ratio: 4:3
Audio: Built-in mono speaker with 1 watt of power
PC I/O: D-sub 15-pin Input x 2 (1 switchable in/monitor out)
Video Input: Component Input (D-sub 15-pin), Composite (RCA)
Audio: Stereo mini-jack input and output, Analog stereo input (RCAx2)
Service Port: Mini DIN 8-pin
The PLC-XW60 will be available in April 2008 for an MSRP of $795.00.