SANYO Xacti CG9 Camcorder
SANYO debuts the Xacti CG9 MPEG-4 digital camcorder with 9.1 megapixel still image capability.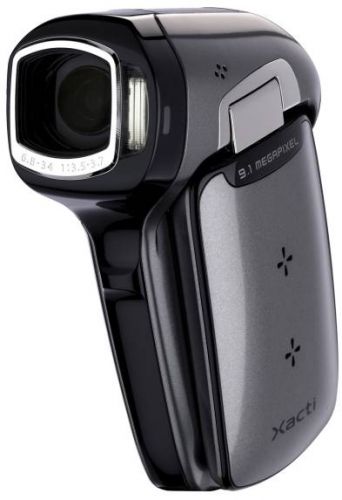 Video is recorded in MPEG-4 AVC/H.264 format encoding technology. Users can record up to one hour of video per gigabyte of available memory (TV-HQ mode) on a standard SD or SDHC memory card. SDHC cards up to a capacity of 32 gigabytes are supported. 9.1-megapixel CMOS sensor allows movies to be recorded and played back at a smooth rate of 60 fps (TV-HR mode). The CG9 captures 9.1-megapixel still photos and sequential photo setting lets you take up to 10 photos in rapid succession with a shutter speed of 5 frames per second (fps).
The CG9 features a newly developed high-power 5x optical zoom with a bright maximum aperture of f/3.5 (wide) and f/3.7 (tele). The camera features eight groups and eleven total lenses. Combined with the 12x digital zoom, the HD700 provides up to 62.5x zooming capability.
The Xacti CG9 features a large 2.5 inch amorphous silicon TFT Liquid Crystal Display (LCD). The bright display flips out from the camera and rotates to allow taking great video or still images from otherwise-difficult-to-view positions. This is especially useful when shooting in large crowds or in small rooms.