Fujifilm GFX 50R 51.4MP Mirrorless Medium Format Camera
Featuring a large 51.4MP G Format CMOS image sensor and X-Processor Pro image processing engine, the GFX 50R delivers superior image quality in a compact and lightweight body reminiscent of their renowned medium format film cameras widely used in street and documentary photography. The GFX 50R is equipped with a 0.77×3.69M-dot organic 'OLED' electronic viewfinder for accurate focusing and framing
The Fujifilm GFX 50R features a 43.8×32.9mm CMOS medium format sensor: a product of Fujifilm's rich history, cutting-edge digital technology and extensive knowledge of medium format film cameras. Boasting an effective resolution of 51.4 million pixels and paired with high-performance GF lenses, the sensor delivers superior tones and sharpness that will impress professional photographers shooting in the world of commercial, fashion or landscapes.
Both the shape of the light-gathering micro-lenses and the processing from the photodiodes have been optimized to achieve a high level of sharpness and broad dynamic range.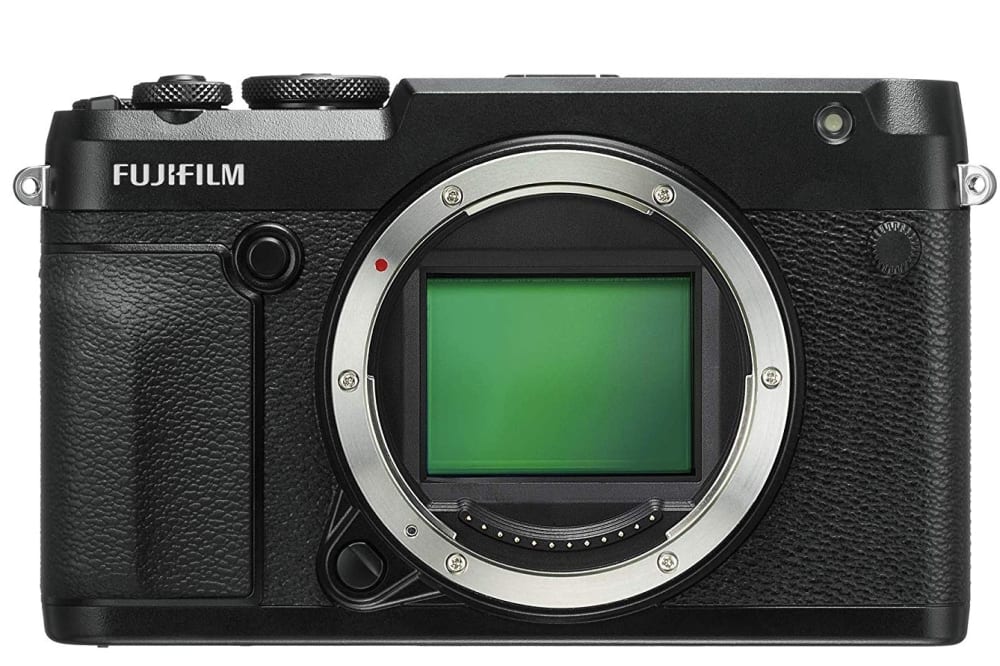 The Fujifilm GFX 50R sports the X-Processor Pro image processing engine, capable of drawing the very best out of the 51.4 megapixel sensor. Its advanced processing accelerates and optimizes the camera's performance in a variety of areas including stunning color reproduction with Fujifilm's unique Film Simulation modes, in-camera RAW conversion to the 8-bit TIFF format, accurate contrast AF, quick startup time, and minimal shutter release time lag and shooting intervals between frames.
The Fujifilm GFX 50R uses the G Mount, which has a mount diameter of 65mm, flange back distance of 26.7mm and minimum back focus distance of 16.7mm. It uses as many as 12 electronic contact points for sending and receiving data, plus it supports the use of a wide variety of lenses and accessories. The short back focus distance, made possible because of the Fujifilm mirrorless system's structure, affords greater freedom in lens design to contribute to the development of fast, compact and high-performance GF lenses while preventing vignetting to deliver edge-to-edge sharpness.
The Fujifilm GFX 50R's magnesium alloy camera body is dust- and water-resistant while also being able to withstand low temperatures to-10 degrees C. Despite carrying a large image sensor, the camera is compact, lightweight and extremely durable.
The GFX 50R rangefinder style design, weighing just 775g, makes it astonishingly compact and lightweight despite being a medium format digital camera, especially when fitted with a compact lens. Weather seals on the inside of the camera body means it is made to withstand dust and moisture and low temperatures. That makes it a perfect choice for a wide range of tough shooting conditions, as well as in-studio.
The compact and lightweight GFX body is designed with attention to detail to achieve advanced functionality and elegance at the same time. Examples of this can be seen in the optimized shapes of individual components, surface texture of the magnesium alloy body, and the use of rubber material for a more comfortable grip.
Operation dials, including the shutter speed dial, are milled out of aluminum blocks for premium texture. Extra attention has been given to the internal structure and fine adjustments have been applied to individual operations, as evident in the clicking sensation and sound. The more you use the camera, the more comfortable it becomes.
The rear 2.36M-dot LCD monitor measures 3.2 inches and offers 100% coverage. The smart touchscreen panel enables intuitive operation and tilts in two directions for easy framing and shooting from high or low angles.
The touchscreen makes it easy to select an AF area and enlarge the Live View intuitively.
Single Focus Points and Focus Area – TTL Contrast AF is available in Single Point, Zone and Wide/Tracking modes. In the Single Point mode, the camera offers up to 425 Focus Points and six different Focus Area sizes. Select the minimum size for pinpoint focusing.