Nikon Z6 FX-Format Mirrorless Camera Body w/NIKKOR Z 24-70mm f/4 S
A deep grip design and balanced weight feel great with both NIKKOR Z and F-Mount NIKKOR lenses with the Mount Adapter FTZ. Buttons and dials are comfortably placed – features like the sub-selector and AF-On button are in the same position as the D850. Unmistakably Nikon.
One of the major benefits of the Z6s thin 16mm flange back distance is that cameras can be made smaller and lighter. The Z6 is smaller and lighter than the D750, yet it maintains outstanding handling and baance, even when using telephoto F-Mount BNIKKOR Lenses. It's as comfortable to carry as it is to shoot with.
Leading the charge. For the first time in a full-frame Nikon camera, you can charge the Z 6's new EN-EL15b battery in the camera through a standard USB-C connection—from your computer, a wall outlet or other charging device. Already have EN-EL15a/EN-EL15 batteries*? They work with the Z6, too. Requires optional EH-7P Charging AC Adapter. Camera cannot be used while charging via USB. *EN-EL15a/EN-EL15 batteries cannot be charged in the camera via USB.
Like the D750 and other high-end Nikon DSLRs, the Z6 is extensively weather sealed against dust and moisture, as are NIKKOR Z lenses and the Mount Adapter FTZ. No need to baby this camera
Nikkor Z lenses gather more light and break traditional rules of the "sweet spot". Forget about stopping down for maximum sharpness — Nikkor Z are at their best and deliver corner-to-corner sharpness even at their widest aperture.
When used with the optional Mount Adapter FTZ, more than 90 F-Mount Nikkor lenses maintain all of their sharpness, resolving power and functionality and gain the advantages of the Z 6's in-body VR, silent shooting, PDAF focusing system*, 4K video and more. Approximately 360 F-Mount Nikkor lenses can be used. Compatibility as only Nikon can deliver.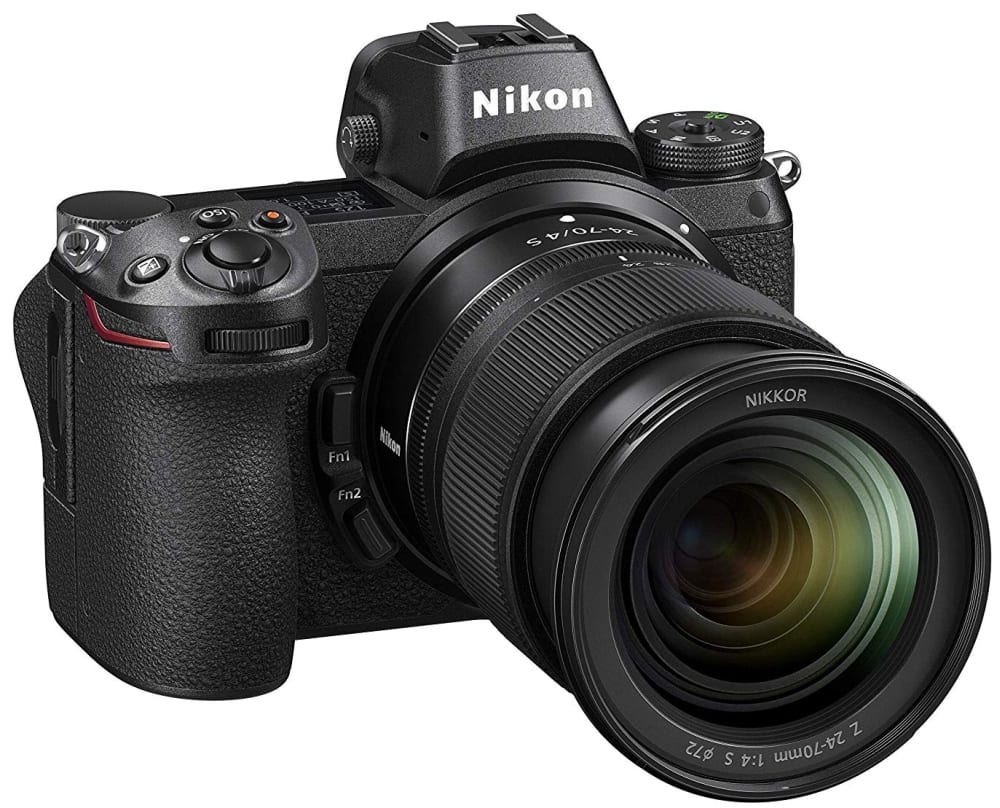 Take an ultra-high resolution QUAD VGA display, add Nikon optics for magnification, including Aspherical lens elements and Fluorine coating, and you've got an EVF experience unlike any before it. Minimal lag and blackout, 100% frame coverage*, corner-to-corner clarity and sharp magnification. It has the feel of an optical viewfinder, and you can use it for both stills and videos.
All relevant info is displayed out of the way and is easy on the eyes. A new customizable menu appears right inside the viewfinder, so you can quickly adjust settings without ever taking your eye off the shot. Focus modes, white balance, exposure, VR settings, Picture Controls, and more—all within eye's reach. Preview exposure and white balance changes, image stabilization and depth-of-field in real time. You can even review the photo or video you just shot.