Kitchen Professional Blender
MAKE ANY SMOOTHIE TASTE LIKE SILK: ODA creates the WORLD's first micrometer blender the ingredients are broken into extremely tiny pieces that you'll never see any leafy chunks, chewable seeds or uneven ice cubes in your smoothie! Unlike other homemade smoothies made with regular blenders, the smoothie you made doesn't come out with goopy and chucky mess. With this ODA Kitchen blender, you will make the smooth-as-silk smoothies that taste like the creamy indulgent milkshakes of your childhood!
39,000 RPM MOTOR BREAKS THE TOUGHEST INGREDIENT TO THE TINIEST: The powerful ODA blender motor, with an unrivaled high speed of 39,000 RPM, spins in a fast-and-slow pattern to reach the maximum blending efficiency. The carbon steel blade is assembled with both blunt and sharp side, creating greater durability and strength. The perfect combination of the motor, the blade and the pitcher for this smoothie maker to keep all ingredients get pulverized very fast!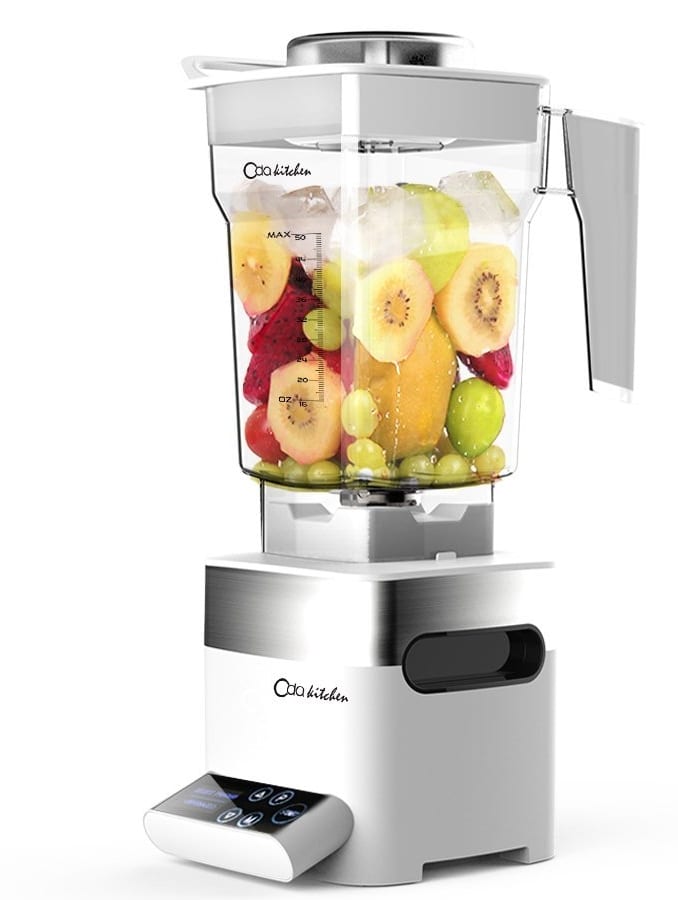 PROGRAMMED SETTINGS TO MAKE YOUR SMOOTHIE WITH ONE TOUCH: With programmed settings, you can make your favorite smoothie at ease in just 50 seconds! This smoothie maker is designed for everyone from children to seniors in your family. And this high speed blender can do much more than just making smoothies! Making juices, ice cream, nut butter, baby food, salsa, hot soups or any food you name it. Get more nutrition for your health and fitness with this ODA Kitchen smoothie maker!
ADVANCED TECHNOLOGY BEHIND ODA HIGH SPEED BLENDER: 1. The BPA-free Tritan square-designed pitcher creates a unique controlled vortex, automatically pulling the ingredients back to the blades for faster, smoother blends. 2. With ODA's programmed self-cleaning setting, your clean-up process for this smoothie blender is just easy breezy. 3. The smoothie maker will stop automatically when the pitcher is lifted or the blade spins too slow, and not operate unless the pitcher placed properly.