Aiwa Exos-9 Portable Bluetooth Speaker
With 200 watts of continuous power and 5 drivers including a 6.5 inch dual voice coil subwoofer, the Exos-9 delivers amazing stereo sound whether you're working alone in the garage or grilling with friends and family in the backyard. Deep bass, distortion-free loud volume, no clipping.
Keep the Exos-9 plugged in at home or enjoy up to 9 hours of incredible unplugged sound with the included 57.2 Wh lithium-ion removable battery pack. Perfect for tailgates, camping, backyard grilling, beach lounging, fishing, and any other outdoor activity where nature forgot to install power outlets. Your guests will pass out before the Exos-9 does.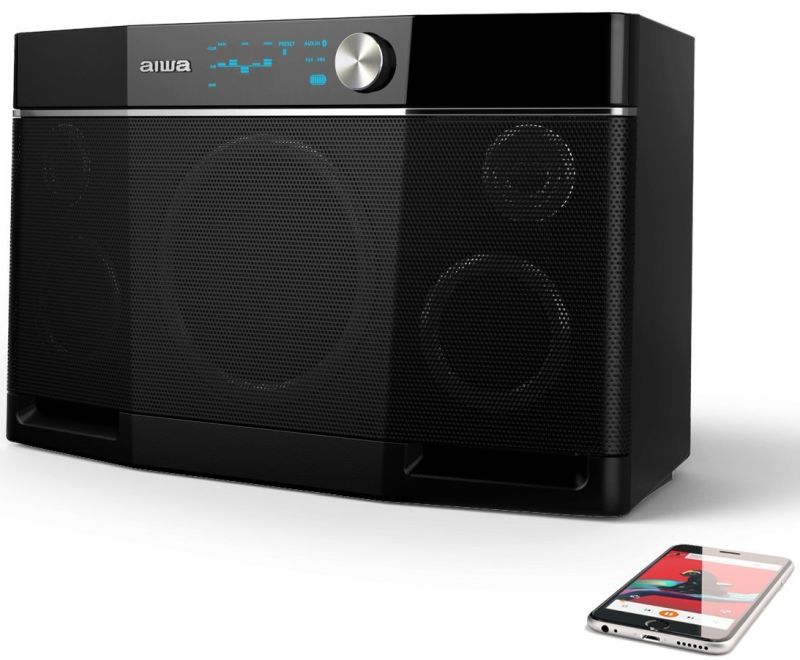 Crank the bass, mids, or highs with the 5-band onboard graphic equalizer. With 4 available pre-sets you can trust our taste or fine tune the EQ to your liking. The customizable EQ makes the Exos-9 perfect for every genre of music as well as podcasts and audiobooks.
Connect to your iPhone, iPad, any Android device, any Kindle tablet, Windows device, PC, or Mac via Bluetooth with aptX and A2DP support. Android NFC also supported. 3.5mm audio jack available for direct connection. LINK TWO Exos-9s FOR MASSIVE SOUND – Link two units together in either a dual stereo or stereo separated configuration to entertain a 75-guest party that will surely draw the attention of your neighbors and local authorities.