Porcelain Doll – Mother Earth, A Vision of Mother Nature
A warm vision of Mother Nature, this barefoot beauty sculpted by world renowned artist Karen Scott stands 19″ tall and is handcrafted in beautiful porcelain. Our stunning Mother Earth doll captures the unconditional love that exists between a mother and her little girl; the most pure and natural love. Every hand painted detail will take your breath away, such as the exquisite lavender flowers that delicately line her face and ankles, her eyebrows and nude colored lips. It's a seamless marriage between elegance and nature's beauty with Mother Earth.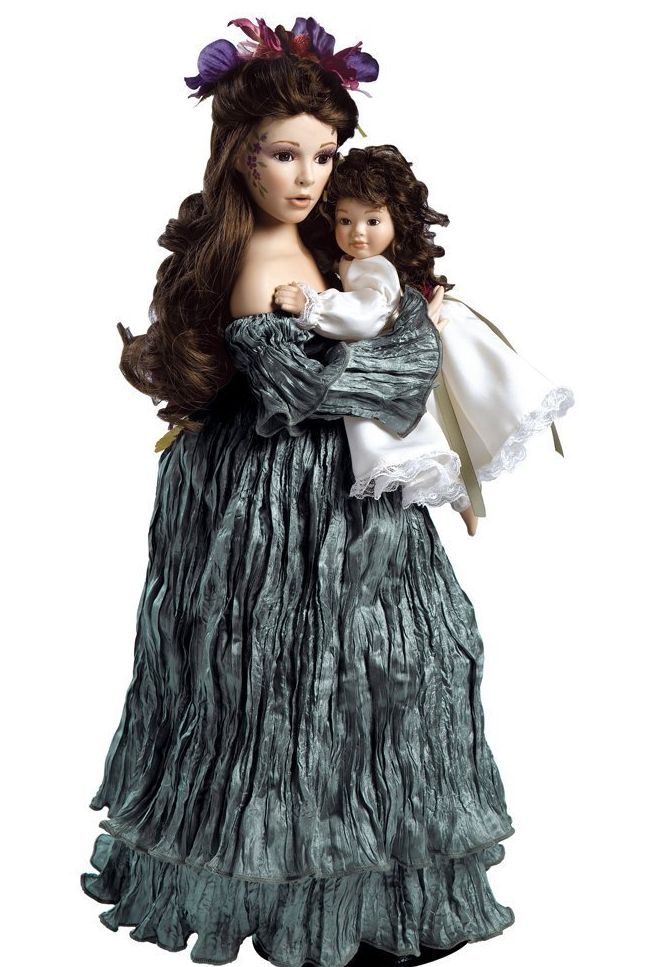 She is dressed in a whimsical olive green off-the-shoulder gown made of soft crinkle fabric, playing in perfect contrast with her deep russet brown locks of curls. A crown of purple and maroon flowers adorns her hair that is held back with a gorgeous braid and falls gently past her shoulders. Her gown features multiple layers, and cinching around the arms and bodice with vibrant flowers that decorate the back of the dress.
Her daughter is already following in her footsteps wearing a soft cream colored dress with lace detailing and a fern green sash around the waist tied with flowers in the back. She comes with matching cream pantaloons and a delicate green ribbon in her hair. Their embrace is a symbol of unconditional love and one you can cherish forever.