K'NEX K-Force – Flash Fire Motorized Blaster Building Set
ENDLESS BUILDING POSSIBILITIES – Let your children experience endless building possibilities with this unique building system from K'NEX K-Force Build and Blast! The Flash Fire Motorized Blaster Building Set comes with 288 parts and pieces that can be clicked together to build a rapid-fire blaster. This activity will keep your children occupied for hours!
MOTORIZED TOY – The Flash Fire Motorized Blaster Building Set is battery-operated and motorized. This feature allows kids to fire 10 darts as fast as they can pull the trigger and as far as 75 feet. This set is recommended for children ages 8 and up.
EASY TO USE – K'NEX K-Force Flash Fire Motorized Blaster comes with easy-to-follow building instructions for 7 unique buildable blaster and target combinations. Unleash your kids' creativity as they make their own designs for open-ended fun!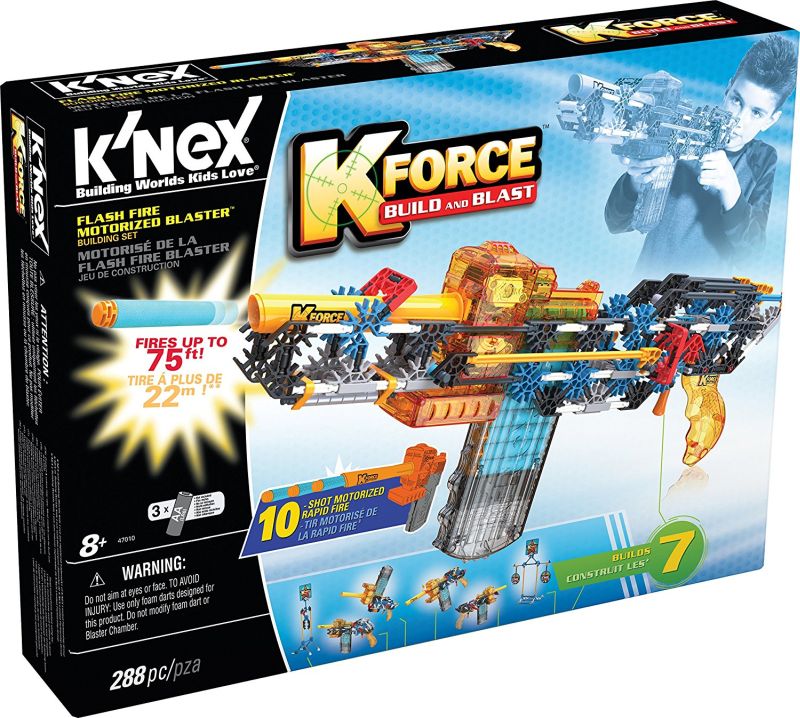 FUN AND ENGAGING – Exercise your child's imagination with this motorized building set. As children play with the set, they strengthen their hand and eye coordination, fine motor and problem-solving skills, and spatial awareness. This toy from K'NEX is fun and engaging — any child will love it!
STEAMagination™ – This is the connection of STEAM (science, technology, engineering, arts & math) with a child's natural curiosity and creativity, and it powers the fun of each and every K'NEX building set. Building with K'NEX puts children on a path to a fundamental understanding of STEAM / STEM subjects.