Ultra Quiet Handheld Electronic Tens Unit Pulse Massager
The MeasuPro Electronic Tens Massager eases pain from sore and tired muscles by delivering electric impulses. Using this pulse massager properly will provide a natural way to alleviate pain and allow users to enjoy healthy and comfortable life. MeasuPro Tens Unit comes with 3 AAA batteries, 4 pieces of electrode pads and 2 output wires along with two year manufacturer's warranty
Features: Tens Unit Massager has 3 pulse stimulation modes: massage, beat and knead to tackle any type of muscle pain. Choose between "Auto Procedure" to target a specific muscle group or "Manual Mode". Once a mode is picked the timer starts with a default 15 minute countdown. Intensity and speed can be increased at any time. Auto shut off feature protects battery life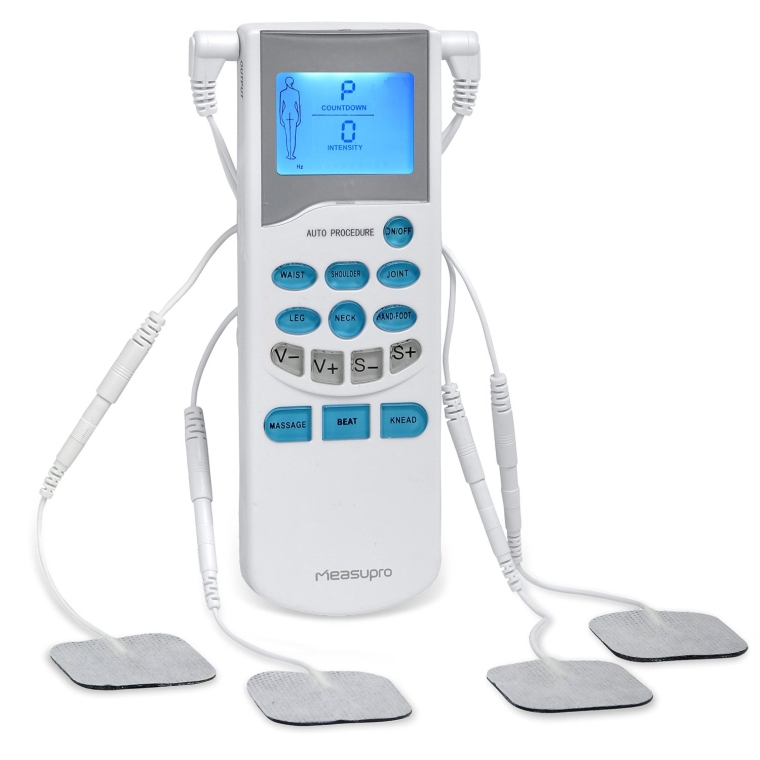 Handheld and easy-to-use, this electronic muscle massager makes relaxing achy muscles and relieving pain as simple as pressing a button! Large visible buttons clearly display waist, shoulder, joint, leg, back and hand/foot to easily get customized impulses sent to desired muscle groups. Increasing intensity or speed is just as simple;
This ultra-quiet electronic muscle stimulator has a stylish design in a compact, portable size – take it to the gym, the office or on vacation! Large backlit LCD display gives visible confirmation of muscles being targeted, timer, speed, intensity and pressure mode
Don't let its convenient size and lightweight fool you. This tens unit allows user to increase intensity and speed with a choice of 10 easily adjustable levels. Use both outputs or just one and still receive the same amount of power.