Universal Two Hands Tablet Stand Blue – Kitchen iPad Stand – 360 degree Adjustable iPad Holder
Multi-Angle & Multi-Purpose Tablet Computer Stand- with its 360 degree full-motion rotating head, it is definitely perfect for your bed headrest, desktop, seat, kitchen table, and desk.
This sturdy and adjustable aluminum gooseneck iPad holder gives you the freedom to swivel your tablet to your preferred height, position and viewing angle to maximize the use of your e-readers, Smartphones & Tablets.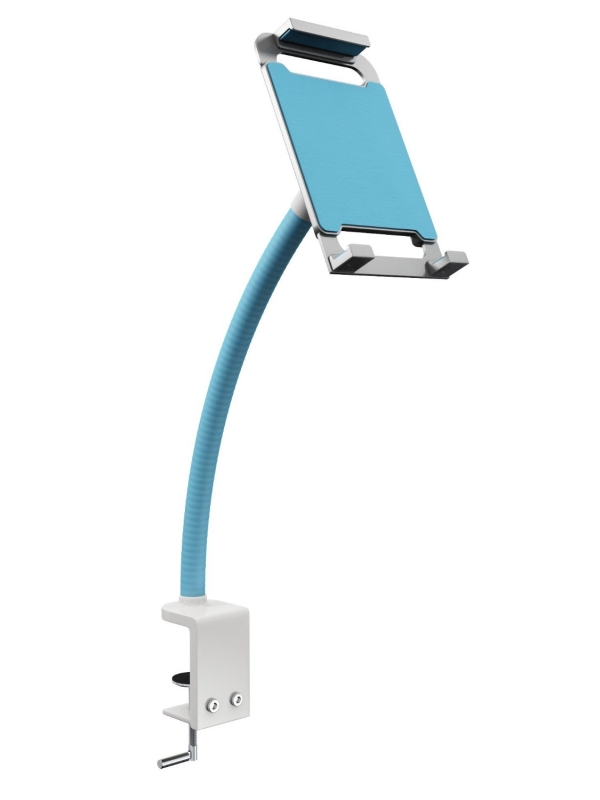 Fits 7 to 12 inch Screen Displays – Compatible with all iPad, Android & Windows Computer Tablet and Big Cellphone Models including iPad Pro, iPad Air 2 3 & 4, iPad Mini 2 & 3, Samsung Galaxy, Note Tab, HTC, LG, Nokia, Lumia, OnePlus, Lenovo and iPhone 6 Plus.
100% Secure Grip, Non-slip and Anti-Dip Tablet / iPad Mount – Rubber coated premium grade Aluminum Steel mounts up to 3.3 pounds without wobbling or dipping with rubber padded edges to protect your device from scratches and sliding.
Enjoy hands-free viewing, in portrait or landscape mode without having to lift your tablet from time to time to put your tablet back in place. Perfect Tablet / iPad Table Mount for watching videos, viewing photos, reading, video recording, yoga exercises, and much more