Olympus TG-4 16 MP Waterproof Digital Camera with 3-Inch LCD
Tough TG-4 takes all you can dish out and keeps shooting! Waterproof to depths of 50ft/15m, it's perfect for snorkeling or battling the waves. TG-4's robust construction is crushproof to 220lbf/100kgf, shockproof to 7ft/2.1m, and dustproof. And because TG-4 is freezeproof to 14°F/-10°C, even frigid conditions don't faze it. From snowy slopes to coral reefs, this is the camera you can always keep with you.
Olympus has designed TG-4 with an unmatched combination of features. For the first time in a rugged compact camera, you can shoot in RAW for the highest resolution capture and maximum creative control. With the sophisticated 16 Megapixel BSI CMOS Sensor and the TruePic VII Image Processor, you will shoot the smallest details and the brightest colors of every exciting moment.
You need powerful imaging for challenging environments, and TG-4's ultra-bright F2.0 High-Speed Lens captures light fast. Nail blur-free shots as quick as the action happens, and shoot crisp, detailed images with minimal noise in low light. Plus, control the focus range of the background with the Aperture Priority Mode for amazing results.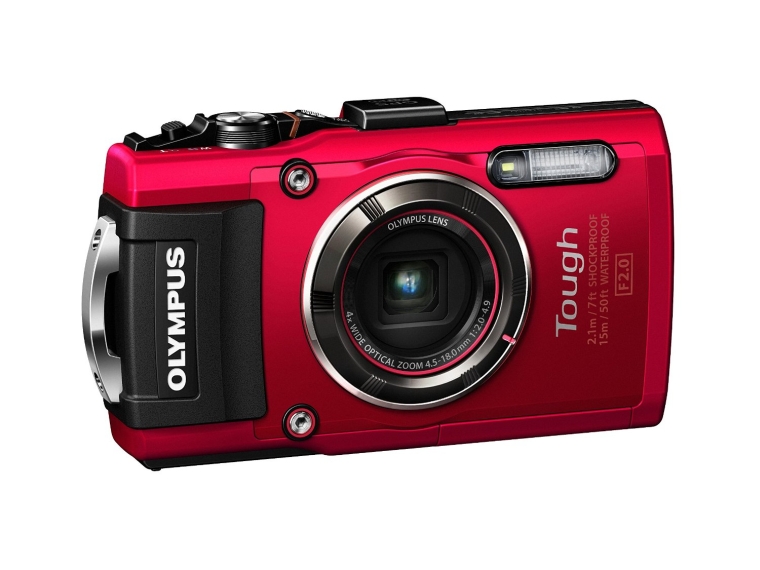 Shooting underwater is a breeze with TG-4's customized Underwater Modes, which are activated fast via the Mode Dial. In addition to Snapshot, Wide, and Macro modes, TG-4 boasts an advanced Underwater HDR mode, which automatically combines multiple images to create vivid underwater scenes with enhanced light and shadow.
Go beyond panoramas and shoot close! TG-4's Variable Macro System offers four powerful options including Microscope (shoot as close as 1cm), Microscope Control (for precise magnification up to 44.5x), Focus Bracketing, and Focus Stacking, which takes multiple exposures to create one flawless image with maximum depth of field.
Outdoor photography is all about action! TG-4 is equipped with multiple options for capturing epic snowboard runs and mountain bike races, including Full HD 1080p video, High-Speed Movie (for slow- motion playback), Interval Shooting, and Time Lapse Movie, which automatically combines individual images – taken at preset intervals – into a short film.
TG-4's Live Composite technology extracts the brightest areas from a sequence of interval shots and automatically combines them into one perfectly exposed image right before your eyes. By capturing dim light and bright areas simultaneously, you'll create incredible night scenes and star trails you'll share over and over again.
Sharing and uploading your outdoor adventures is quick and easy with TG-4's built-in WiFi and the free OI.Share app. Sync smart devices with a QR code to wirelessly share photos and videos with a press of a button. Plus, compose your image, control camera settings, and shoot remotely all from your smart device.
Create your own ultimate rugged system! The waterproof fisheye converter (FCON-T01) captures ultra-wide angle shots, while the waterproof tele converter (TCON-T01) extends TG-4's zoom range to nearly 7x. The LED ring guide (LG-1) provides even lighting for macro shots, and a variety of protective cases and straps complete the assortment.
Accurate next-generation GPS with Landmark Recognition locks onto your location within 10 seconds, and the multifunction e.Compass provides barometric pressure, altitude, and water depth as it points the way home. Plus, the free OI.Track app geotags images with GPS data for sharing and uploading from your smart device.