Electronic Flashing Illuminated Erasable Neon LED Message Writing Board
LED writing board includes a credit-card-thin infrared remote, which is powered by a single cell battery. This little controller sports 24 buttons for absolute control of your LED writing board.
Turn it on and off, increase or decrease brightness levels, select between 16 light colors, and even choose from 4 different color show sequences: Flash, Strobe, Fade and Smooth. To change the light color or the color show sequence without the remote, press the inline selector switch on the hardwired USB power cord.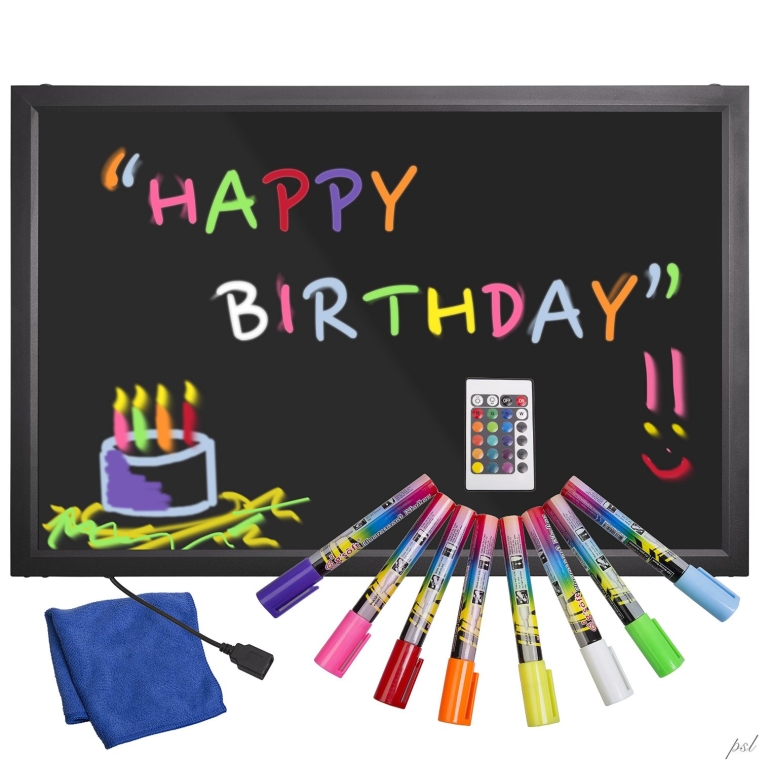 The 6 colored markers included with the Ivation LED writing board use a specialized fluorescent ink. This ink is made of molecules that have the ability to absorb light and subsequently emit it. This means that when colored light shines on the ink, the color effect changes in surprising ways, so the 6 marker colors combined with the 16 LED colors make for a ton of fun and creative freedom. Replacement fluorescent markers are available in office supply retailers.
Because the included fluorescent markers are water-based, cleanup is as easy as wiping with a soft cloth. The LED writing board's high-quality acrylic glass surface wipes completely clean, and is immediately ready for your next drawing.