2.4G 4CH RC Hexacopter With FPV Monitor RTF
6 Axis Gyro RC Hexacopter Item NO.:V323-FPV WL 2.4G Hexacopter with PFV Color:Black Frequency: 2.4GHz Channel: 4CH Gyro: 6 axis Speed Control: Integrated Playing Time: Approx.8-10 minutes Charging Time: Approx. 50 mins Battery for Quadcopter: 7.4V 1600mAh Lithium Battery Battery For Transmiter: 4 x AA Battery (not included ) Control Distance: About 100-150m Age :14+ Dimensions: 11cm x 81cm(H x Dia.) Weight : 1978g Features: – FPV monitor – HD camera wit
/Backward,Turn Left/Right,Leftward/Rightward Flying,360-degree Rotation,Suspension – Switchable transmitter,can switch between mode 1 and mode 2 Ideal FPV Video Platform The ideal platform for budget-minded customers in the market for a large quad to take high-quality FPV video.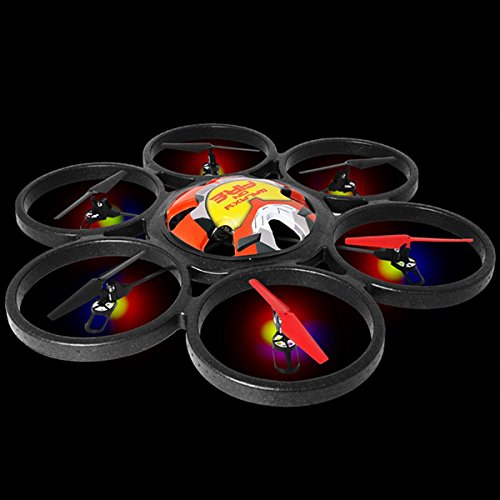 The large size of theV323-FPV makes it easy to see in flight and the 6-axis Flight Stability System (FSS) gives it the control you need to get the quality footage you want. High Quality FPV Video A high-quality camera a that films 720p HD video at 30 FPS comes installed on the V323-FPV along with an Anti-Vibration Mount that helps hold the camera steady so you can avoid shakes and bumps in your video footage.
The signal from the camera is sent to the LCD screen that mounts directly to the transmitter and receives the live feed. 1080p Camera Option Available separately is a high quality HD camera that films 1080p HD video at 30 FPS or 720p HD video at 60 FPS. The camera attaches to the same Anti-Vibration Mo unt that comes with the Ethos FPV and provides clear 1080p footage that you'll want to add to your permanent video library.