Thunderbolt and USB 3.0 Mobile Hard Drive 4TB
With the LaCie Rugged RAID, you get it all in one package – with zero tradeoffs. It delivers a game-changing blend of PC and Mac compatibility, capacity, speed, mobility, and reliability.
The LaCie Rugged also includes two internal hard drives that are preconfigured in hardware RAID 0 for sustained performance of up to 240 MB/s. Don't let your project get derailed by incompatibility between your external drive and your computer.
With both USB 3.0 and Thunderbolt interfaces, the LaCie Rugged RAID is a perfect match for your Mac and PC. Since USB 3.0 is backward compatible, you can connect it to any standard computer, anywhere.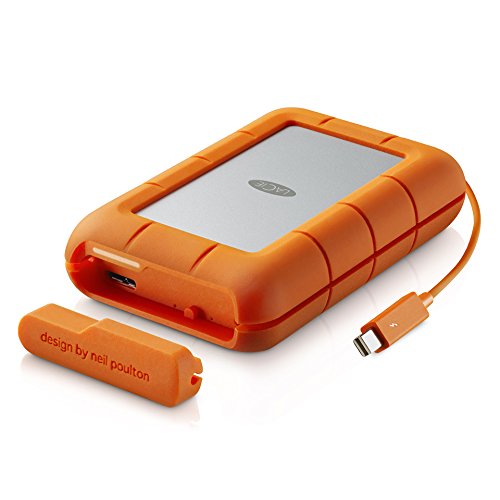 The integrated Thunderbolt cable also stows neatly when not in use, so that you'll never lose it. The LaCie Rugged is also fully bus powered through the USB 3.0 and Thunderbolt cables. Its portability and interfaces make it the must-have sidekick to a new Mac or Ultrabook.
Tailor the LaCie Rugged to your precise needs. Leave it in RAID 0 (striped mode) to maximize speed and capacity. Or choose RAID 1 (mirrored mode), where your data is duplicated across the two drives.
So even if a drive fails in the field, your files remain completely accessible. Using LaCie Setup Assistant, it's incredibly easy to make the LaCie Rugged compatible with any Mac computer, PC, or both.