Sony Boombox Shelf System Bluetooth
Bluetooth Compact Disk R.D.S MP3 One touch listening 24200w P.m.p.o/2200w Rms
Flowing, cascading lights Flexibility is a forte of the MHC-GPX88, which can be arranged freely to suit the occasion. In this series, we have ventured into uncharted territory, as by incorporating innovative LED illumination. And in this project, we pushed the horizons of music experiences by offering something entirely new-flowing LED light shows.
Carefully calculated cuts Surfaces inspired by diamond cuts make parties even more scintillating. On the sparkling, multifaceted dial gracing the middle of the center unit, cuts are carefully calculated to catch and reflect ambient light. This faceting also adorns the edges of each speaker, and the glittering reflections are dazzling at parties.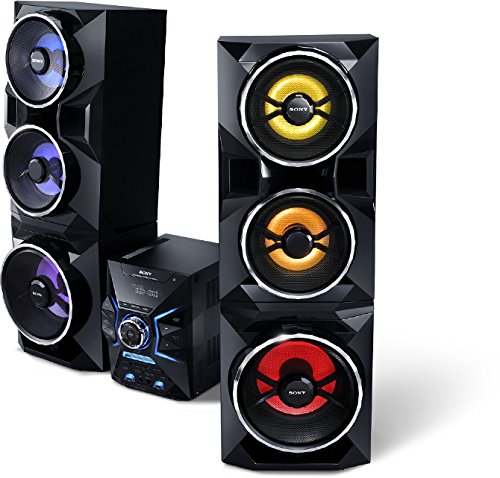 Minimalist shapes In contrast to the sharp inward angles of the SHAKE-7, this unit resembles a cube with chiseled facets-also bold styling. Imagine surfaces gradually converging from the speakers on either side toward the center, focusing all of the system's energy in the middle. It's as if the entire unit were a single, dark quartz crystal. Turn it on, and light seems to be released from the center dial and flow over the whole unit.
Faceted surfaces also line the control panel of the center unit, where each finely cut facet is a button. Because each controls a function, system operation is straightforward. Glossy surfaces alternate with matte ones, making the faceted surfaces more prominent.