Streaming Media Player Pre-Loaded KODI/XBMC 14.0 Helix & Android
NO MONTHLY FEES – PLUG and PLAY READY – Watch all of the latest movies, TV shows, and live sports with no monthly bills or costs! Why waste your money on cable or movie subscriptions when you can get the exact same viewing pleasure with the Element Ti4 Quad Core Android TV Box – you will have access to an endless movie list that is on demand and in high definition.
TRANSFORM YOUR TV INTO A SMART TV INSTANTLY – Turn any TV into a smart TV and harness the power of the fastest, most capable device! Enjoy truly unlimited options and completely customize your HD viewing experience. With apps like Facebook, Internet Browser, KODI Entertainment Center, Pandora, Netfilx, YouTube and more, there is no end to the amount of fun that you can have with your TV now! Even download emulators and enjoy playing old retro video games without paying a dime!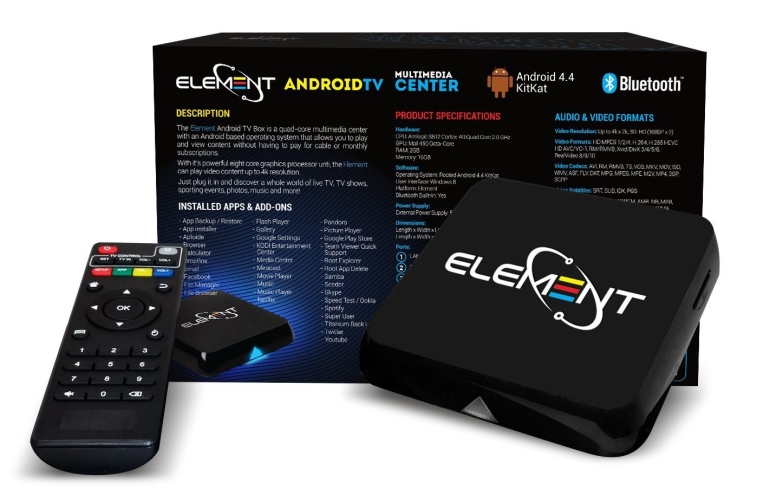 STREAM IN 4K/1080P/720P AT THE TOUCH OF A BUTTON – 4K streaming capabilities mean you can watch your streams in the most stunning visual quality! Imagine sitting down, turning on your television and watching any movie, TV show or sporting event on demand without paying a dollar for it!?! Well imagine no more – we have the solution for you! The Element Ti4 Quad Core Android TV Box comes packed with every movie, TV show and sporting event and it constantly updates – For Free!
SMALL BOX, UNLIMITED POSSIBILITIES, ENDLESS MOVIES – Stream your favorite content from movies, to TV shows, to music all from your TV. Thousands of Add-ons are already installed to make your viewing experience the most enjoyable! With an open platform like Android 4.4 KitKat, you have a complete canvas to customize on your own. Download your favorite apps or video games to enjoy on your television, all for free and without ever paying another dime to any cable company or movie subscription every again!