Camcorder with High-Powered 20x Optical Zoom and Professional Functions
Panasonic HC-X1000 4K-60p/50p Camcorder with High-Powered 20x Optical Zoom and Professional Functions
With the compact HS-X1000, 4K Ultra HD* video is created with a 4K 8-MP 1/2.3-inch BSI sensor. Compared with the 2-MP sensors used in ordinary Full-HD camcorders, this distinct sensor advantage renders professional-quality UHD and FHD results. Right down to the finest details, and with minimal blurring.
This highly agile, multi-format camcorder is ideal for shooting documentaries, sports and events. It supports 4K, Cinema 4K and Full-HD with frame rates that include 30p, 60p, and 24p.
In 4K 60p resolution, the mobile X1000 captures stunning, lifelike images. Using 60p/50p, the frame rate has twice the information of 30p for smoother motion. If you're ready for 4K, this is how you do it.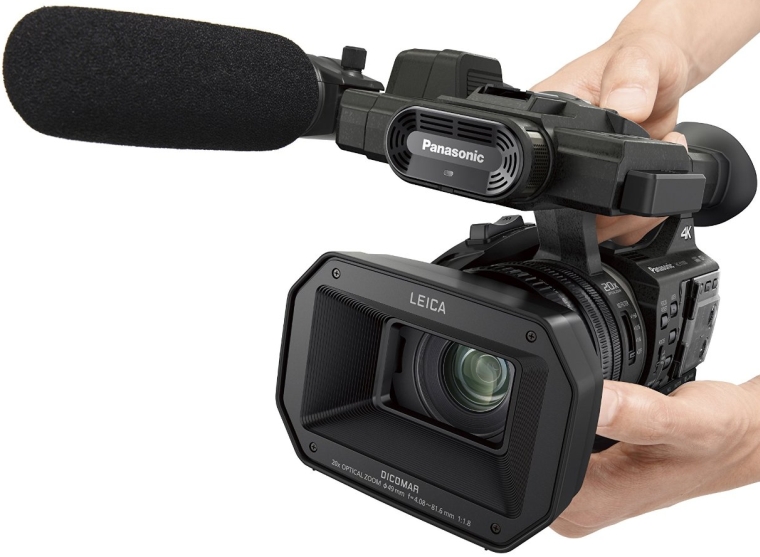 ersatile formats and bit rates make the X1000 unbeatable in a wide range of applications. Its AVCHD, MOV and MP4 formats make editing quick and easy. And Full-HD utilizes ALL Intra compression for a maximum bit rate of 200 Mbps to bring incredible quality to image production.
For external mic and line recording, the X1000 is equipped with 2-channel input terminals. A +48 V phantom power supply is also included to handle pro-spec, high-performance microphones for recording high-quality sound.
To fit a 20x optical zoom into this portable body, the X1000 is designed with four compact, separately driven Leica Dicomar lens groups and a space-saving drive range. This efficiency — together with the subtle nuances and shading captured by renowned Leica lenses — clearly shows in sports scenes and other professional applications.
To suppress the amount of incident light, Neutral Density filters are built into the lens, and can be selected — 1/4, 1/16, 1/64 or OFF — to match your shooting environment. It's a distinct advantage when shooting at a slow shutter speed in bright daylight. And you can attain high resolution and a shallow depth of field when opening the aperture.