Panasonic HD Camcorder with Built-in Twin Video Camera
One-touch Connection — NFC lets you instantly connect a smartphone or tablet to the camcorder with just one touch. Even without an NFC phone, QR codes are provided to make Wi-Fi settings.
The "Panasonic Image App" lets you use a smartphone or tablet as a real-time remote to control the camcorder from a distance. View photos and video directly from the camcorder on a smartphone or tablet, and upload to a SNS site.
You can live-stream events on USTREAM as they are being recorded in Full-HD resolution.
Baby Monitor* — Check on the baby anytime from anywhere with a smartphone or tablet. Push Notification sends an instant alert when the audio sensor detects the baby waking or crying.
A rotatable sub-camera lets you take shots from two angles at once. You can capture the family and take a selfie in both tele and wide-angle shots. A backup function records a picture-in-picture image and a main camera image. The sub camera image is recorded into any one of various sub windows, and its display position can be changed with a simple touch of a button.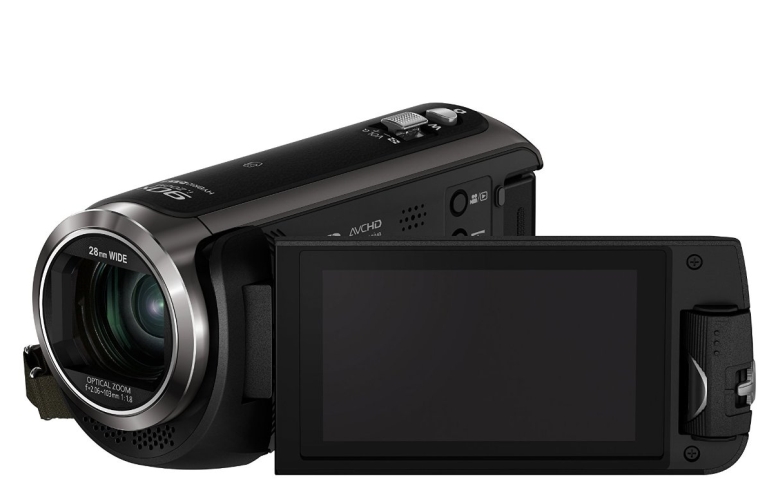 Using your smartphone's Wi-Fi, you can shoot from two angles at the same time. And because you're shooting with two different cameras, you shoot from any distance or angle you choose for a variety of Picture-in-Picture images.
Intelligent 90x Zoom/Optical 50x Zoom makes it easy to bring in subjects too far away to capture with conventional zoom functions.
From wide-angle to powerful zoom shots, HYBRID O.I.S. + uses five-axis correction to suppress blurring. It lets you capture crisp, clear images in nearly any shooting situation.
The 28mm wide-angle* fits more people and more of the background into the frame. This is especially handy when you want to take a group photo in a small room. It fits your subjects in even when you shoot up close, and makes it possible to pick up even small sounds with the mic.