Full Hd Action Camera 'Eyeshot' with Wi-fi and Watch Remote Control
The Eyeshot Full HD (1080p) Action Camera is Waterproof, Shockproof and comes with a host of features, including an Ambarella A7L Chip (same as GoPro Hero3+), a Panasonic 16 Megapixels CMOS Sensor (better than GoPro Hero3+), a 2.4 GHz Waterproof Watch Remote Control (w/ live view record), Built In Wi-Fi (free app available on the App Store and Google Play), and a 60 Meter Waterproof rating.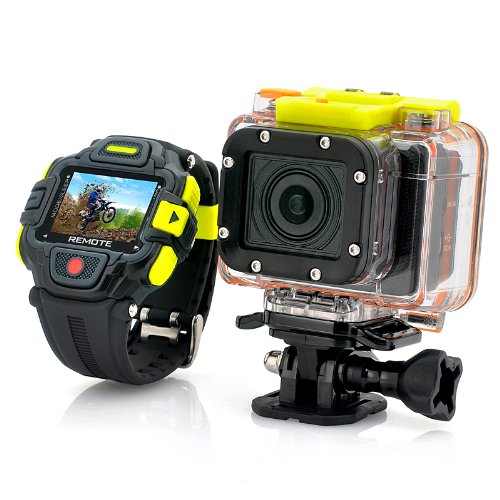 Awesome Videos Are Within Eyeshot with Watch Remote Control The Eyeshot Full HD Action Camera is a beautiful piece of technology inside and out, starting with the fact that it is the only action camera that comes with a watch remote control, allowing you to see what you are filming while you are filming it. This quality action camera has a tough, sleek exterior and an Ambarella A7L Chip (same as GoPro Hero3+) running the inner workings like clockwork.
You can count on the Panasonic 16 Mega Pixels CMOS Sensor to produce even better images than GoPro, too. Plus it's waterproof up to depths of 60 meters, durable, and comes with a watch remote control, the eyeshot sports action camera even has built-in Wi-Fi with an app that can be download from either the App Store or Google Play. Better Sensor Than GoPro According to the popular tech mag Gizmag, "a bigger sensor can gain more information than a smaller one and produce better images."