iTOi Video Booth for iPad Tablet
iTOiTM Video Booth for iPad Tablet. Now you can maintain direct eye contact with video chat partners and audiences. Enhances sound capture and projection, so your audience and you hear each other clearly Works with all popular video chat software, including Skype, FaceTime and Google Hangouts Hands-free experience so you can focus on your audience and conversation, not on holding your tablet Minimizes glare on your screen for a more flattering image Free iPad app turns the booth into a mini video production suite for professional quality videos in 3 simple steps (compatible with YouTube) Note: does not work with iPad mini Like being face to face. iTOi's advanced optic technology makes it possible to maintain direct eye contact with your audience, creating a more personal connection.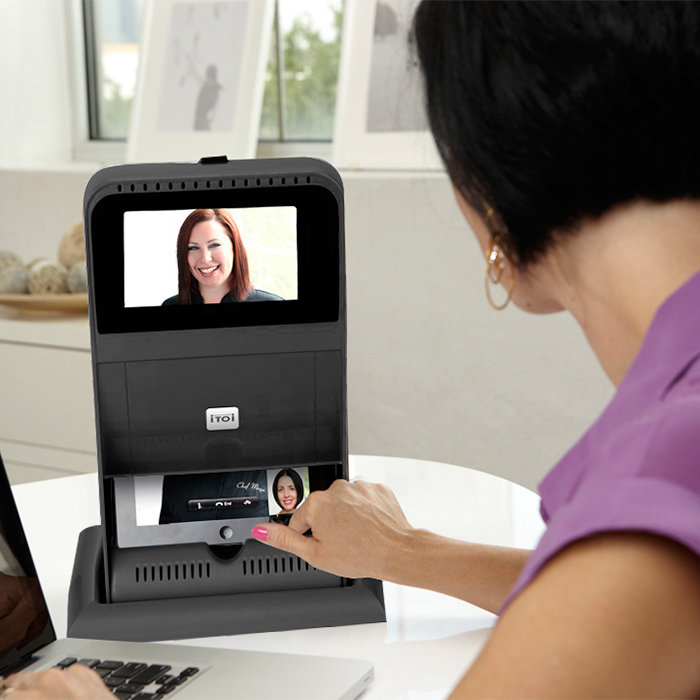 Superior audio design captures and projects what you say and what you hear clearly for amazing sound. With iTOi, video chat is as natural as being face to face. Turn your iPad into a teleprompter and mini video production suite. A built-in teleprompter loads and feeds scripts into your iPad, then lets you read the scripts while looking directly at the camera.
The iTOi Producer App also lets you select your favorite images to appear on screen, while you continue narratingGCono editing necessary. Compatible with the most popular video communication platforms. iTOi works with Skype, FaceTime and YouTube. Now you can see eye to eye for Skype meetings, telecommuting and connecting with family across the miles, plus create professional-looking videos for YouTube & Facebook, video blogs, product reviews and much more. Hands-free convenience. iTOi lets you focus on your conversation or recording without the need to hold the iPad.