Samsung Galaxy Camera with Android
The Galaxy Camera combines high performance photography with the Android platform. The result is a powerful point and shoot camera with a familiar, intuitive user interface. It's a whole new kind of camera that doesn't just capture smiles, it lets you use voice commands, share images and videos instantly and take full advantage of the Android 4.1, Jelly Bean platform.
The Samsung GC110 is a serious camera designed to capture amazing images in almost any situation. It starts with a quality 23mm wide-angle lens that gives you a 21x optical zoom and optical image stabilization. You can go fully automated, fully manual or select a setting (like aperture or shutter priority) and let the camera figure out the rest.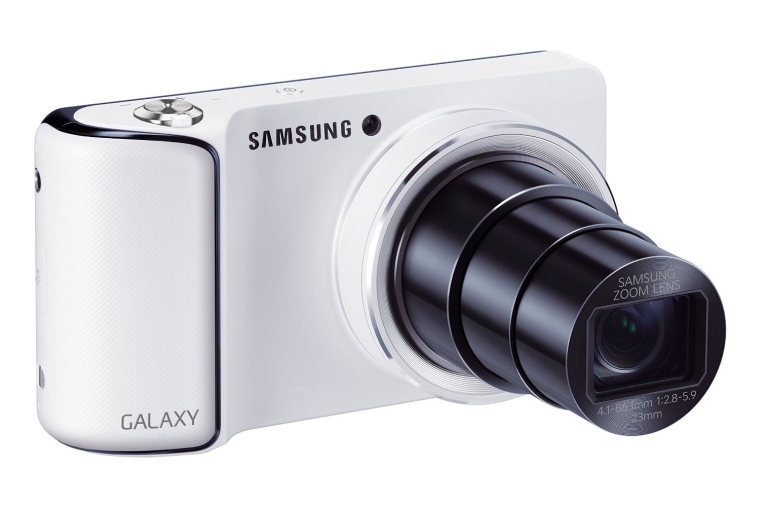 With Samsung S Voice, you can also tell your camera what to do. It will respond to commands like "smile," "record video" and "zoom in." You'll take beautiful photos and clear, vibrant video with the Galaxy Camera. But it doesn't stop there. With Photo Wizard, you can edit those photos right in the camera – adjust brightness and color, add effects, crop and more.
And with Video Editor, you can delete and rearrange scenes, add music and insert text. These are precision tools that make sure the photos and videos you share are exactly as you like them. And you'll see every amazing detail on the 4.8″ HD Super Clear Touch Screen LCD.
The Galaxy Camera is packed with advanced sharing features. But its most basic sharing feature might be its most impressive – simply showing your friends your new photos and videos on the big, beautiful 4.8″ HD Super Clear Touch Screen. Then technology – thanks to Android and Wi-Fi – brings sharing to a whole new level. Use Buddy Photo Share to share directly to your favorite social networks, and Share Shot to share with other devices.