16 Monitor Workstation and Professional Video Wall Computer
Desktop Divider Mode (aka Virtual Display Mode): Overlay a grid on top of a stretched desktop, to add independent properties to the individual monitors (like Independent Mode). This allows you to enjoy the properties of both worlds at the same time (stretched desktop mode + independent display mode)
Clone Mode (aka Mirror mode): Show the same image on more than one display!
Independent Desktop Mode (aka Extended Desktop Mode): is best used for business multitasking, day trading, general productivity, and every day computer usage. This mode gives each monitor an individual nature, yet all monitors are still connected in a larger array, allowing the user to drag windows to different screens.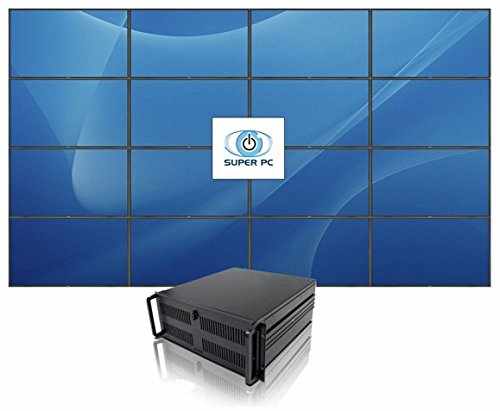 You also have the ability to copy and paste across applications that are on different monitors. All of the screens are connected and interactive. You can simply drag any window to your monitor of choice and click the maximize button. Your application will fill that display and lock it in place (just like a single monitor system).
Stretched Desktop Mode (aka Video Wall Mode): this mode tells the computer to treat all of the monitors as one large screen. The computer will not recognize individual monitor properties. This allows you to maximize any window, or video, to fill all of the screens.
This mode is used for video wall setups, where you will only be using all of the screens, as one large display; for running videos, PC games, flight simulators, control room video walls, large digital signage, satellite imaging (Google Earth), and many other large display applications. Another great feature of this system is that you can use the "Desktop Divider Mode" on top of the "Stretched Desktop Mode" to give you the individual monitor properties back (for multitasking), but still allowing you to Maximize applications across all screens.