20W High Powered Foldable Laptop Solar Panel Charger with 16000 mAh Multi-Voltage
Found by a group of 90's who love life and advocate science, Levin devotes to offering green, safe and smart energy, developing fashionable and creative electronics. This gadgets has 18% high solar efficiency provides up to 5V/1272 mAh output, once connected, limitless and free power keep powering up your gadgets.
Folding down into an easily-stowable paper-sized package, the 1.7lb charger adds minimal weight and size to your pack. Well-placed eyeholes enable easy attachment to your pack, tent or trees.
Physically the panels fold up into a compact size for carrying. When they're opened, nylon loops allow the panels to be secured to the ground, on a backback, or whichever way works best to catch the sun's rays.
The Sol-Wing solar panel is ideal for times when an electrical power source is not available, such as for hiking or camping, or during emergencies when the power is out. If the sun is out, you've got power.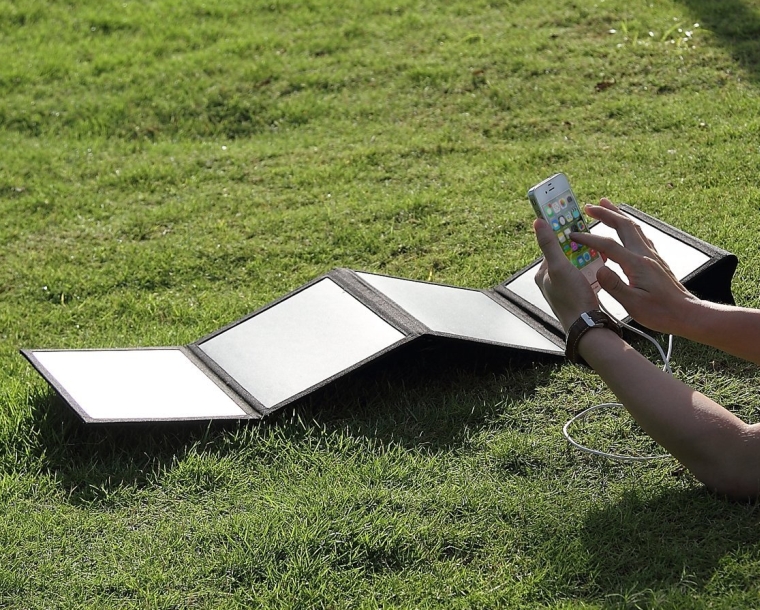 With solar panels faced with hardened PET plastic and bound together with heavy polyester canvas, this solar array sports ultimate weather-resistant durability. High-grade solar panels and premium circuitry ensure lifetime reliability.
12 months worry-free product guarantee.
what people say about this gadget:
– Excellent solar panel with a high output and endless amounts of power…in sunlight!
-Has 4 solar panels that that make a combined output of 14 watts and they fold into each other to make it very portable and easy to carry/store
-Can charge any USB chargeable device up to 2.4 amps (includes charging tablets and smartphones at full speed)
-1 USB port that is in a see though pouch to store the device being charge like a smartphone
-Has hooks/rope straps to secure it to a bag or wall/window
-Velcro strips keep the folded up solar panel folded/securely closed
-Solar panels do not attract finger prints
-High quality construction
-Very simple to use and no buttons to press
Levin 20W High Powered Foldable Laptop Solar Panel Charger with 16000 mAh Multi-Voltage (5V / 8.4V / 9V / 12V / 16V / 19V / 21V) Laptop External Battery Pack Charger for Notebooks and Apple devices(iPhone, iPad and other Apple devices are all included), Samsung ,Windows Phones and All Other Android Devices. (Black)