Banzai Adventure Club Water Park
The wildly popular Crocodile Isle Water Park brings the thrill of the jungle to your backyard. Kids love the vibrantly colored crocodile theme, while parents love the quality, durability, and safety.
Your kids can rappel up the climbing wall to reach a lookout platform where they can lounge about or zoom down the tail or the snout of the crocodile. Overhead sprayers rain down on each of these two curving slides for cool, wet fun as your kids zip down into the splash pool below. Add the optional play balls for even more fun. Kids have a blast and stay cool for hours as they climb, slide, race, and splash.
You will love the Crocodile Isle as much as your kids will! Why? Besides being entertained for hours, your children will burn up that extra energy in a healthy way, getting lots of exercise while they play safely. Kids do not have to exit the play area to climb the slide, meaning less grass and debris in the water park. It's large enough to accommodate up to six kids at once with room to spare.
Set-up is a snap using the UL listed blower (included) that literally inflates the water park in minutes. Attach the water tube, hook up your hose and you are all set for fun. Built-in flow restriction helps minimize water use.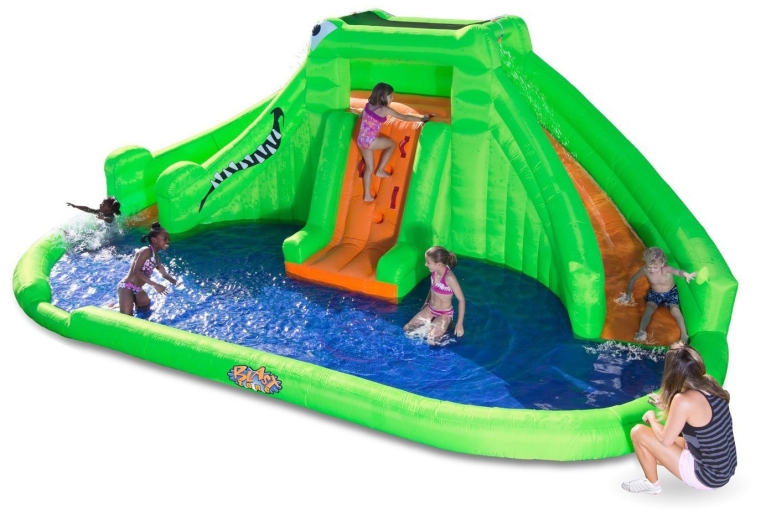 The rugged Crocodile Isle Water Park is constructed according to Blast Zone's strict quality and safety standards, using double and quadruple stitched, reinforced polyester oxford.