BOOMco. Stealth Ambush Blasters
Join the BOOMco revolution in action play that features incredibly unique blasters, targets, Rounds and darts! When fully loaded, the Stealth Ambushâ"¢ Blaster houses 17 Smart Stick darts! It slam fires when boys pull back on the rear handle, with each dart soaring up to 70 feet!
It comes with an 8 dart clip and features a surprise reveal: With the push of a button, a secret chamber pops open on the top of the blaster housing an additional 3 darts which will unload with the next pull of the slam fire handle.
Simultaneously, the wings of the blaster fly open like an eagle revealing another 6 darts (3 on each side) for speedy reload And there's more: the blaster's push button transforming shields feature Smart Stickâ"¢ material that allows you to capture and re-use your opponent's darts! You'll be unstoppable in battle!
To create a more personalized blaster, just pick up the Printable Target Sticker Pack (sold separately) and create your own Smart Stickâ"¢ blaster shield designs. The Stealth Ambushâ"¢ Blaster comes with 17 Smart Stickâ"¢ darts, an 8 dart clip, and a 9-inch sticky backed Smart Stickâ"¢ target. Ages 6 and older.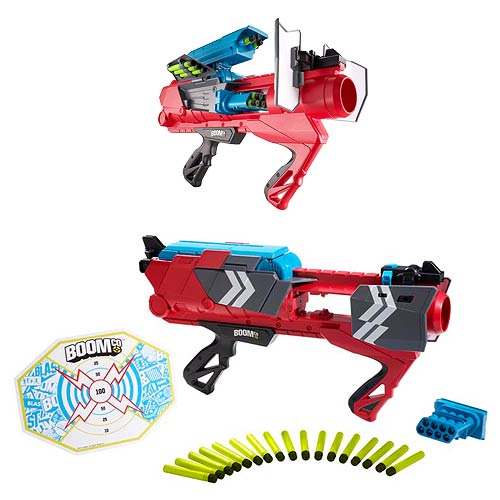 EntertainmentEarth.com