Olympus TG-3 Waterproof 16 MP Digital Camera
Have you ever stopped and wished you had a WiFi-enabled camera that could handle extreme outdoor conditions and deliver spectacular high-resolution photos and smooth HD videos of your epic outdoor adventures, even in low light? If so, meet the Olympus Tough TG-3. It's incredibly rugged, yet boasts a super-bright f2.0 4x zoom lens, sophisticated features like next-generation GPS, Interval Shooting and time-lapse movie options, four variable macro shooting modes, and system accessories that further expand its capabilities. This is the camera you take to places you never dared take a camera before.
Extreme pursuits in extreme conditions require an extremely rugged camera. The TG-3 stands up to the four major challenges facing any adrenaline-crazed adventure shooter: wet – waterproof to 50 feet (15m); cold – freezeproof to 14°F (-10°C); clumsy – shockproof to 7 feet (2.1m); and forgetful – crushproof to 220 pounds of pressure (100kgf). So whether you dunk it, leave it outside, drop it or sit on it, the TG-3 will handle the abuse and keep right on capturing your epic adventures.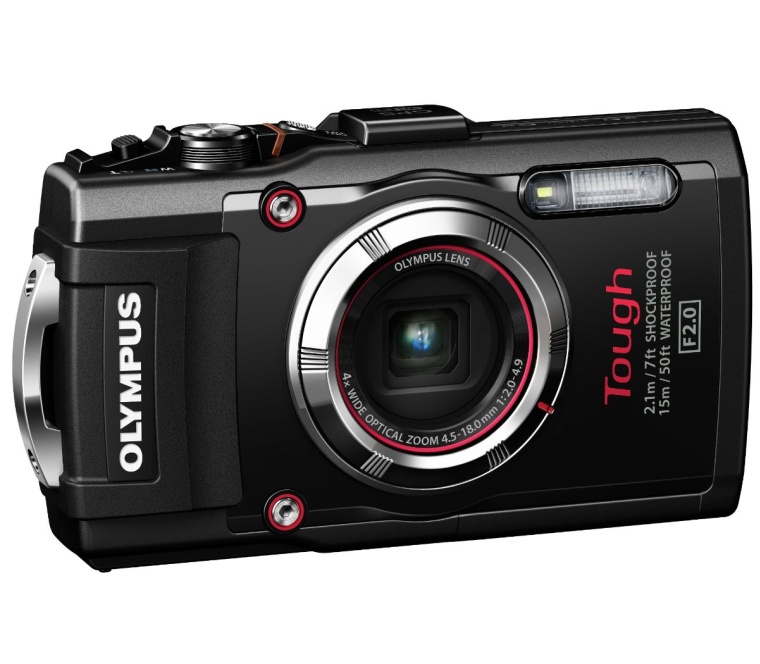 The TG-3 is designed to meld seamlessly with your ever-more-interconnected digital world. WiFi is built right in, so you can share files easily with the Olympus Image Share app; even cooler, you can operate the zoom, adjust ISO and white balance, select the shooting and drive modes, activate the self-timer, and even select the autofocus point and trip the shutter, all from your smart device – great for wildlife photography and including yourself in group shots. The TG-3 also has a built-in electronic compass and next-generation GPS that accurately locates your position in 10 seconds and geotags photos (for mapping out your journeys).
Another thing that sets the TG-3 apart from other rugged cameras is its family of accessories (sold separately). The waterproof fisheye converter (FCON-T01) gives you the ability to capture gorgeous wide-angle shots; thanks to the bright f2.0 lens, even dark underwater scenes pop. The waterproof tele converter (TCON-T01) increases the camera's zoom capability from 4x to nearly 7x, and allows you to highlight the subject by blurring the background. And the new LED ring guide (LG-1) channels the camera's LED illuminator for enhanced, even lighting during macro photography.