Olympus TG-3 Waterproof 16 MP Digital Camera
Have you ever stopped and wished you had a WiFi-enabled camera that could handle extreme outdoor conditions and deliver spectacular high-resolution photos and smooth HD videos of your epic outdoor adventures, even in low light? If so, meet the Olympus Tough TG-3. It's incredibly rugged, yet boasts a super-bright f2.0 4x zoom lens, sophisticated features like next-generation GPS, Interval Shooting and time-lapse movie options, four variable macro shooting modes, and system accessories that further expand its capabilities. This is the camera you take to places you never dared take a camera before.
Shooting fast action in less-than-ideal lighting is a recipe for disappointment with most outdoor cameras – but not the TG-3. Its ultra-bright high-speed f2.0 lens enables the camera to dial up the shutter speed to nail blur-free shots when a school of exotic fish is passing by or your buddy is flashing through the shadows on his bike. You can also reduce the ISO to shoot crisp, detailed images with minimal noise in low light, or use the Aperture priority mode to expand the focus range of the background.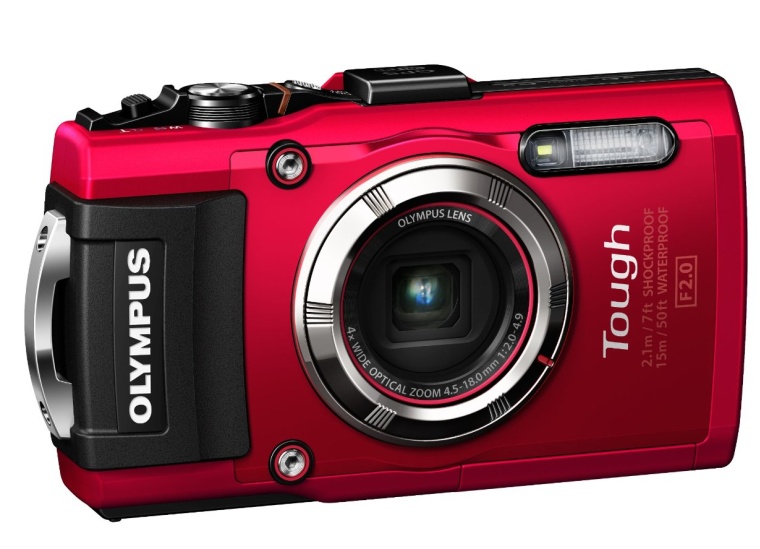 he TG-3 is designed to meld seamlessly with your ever-more-interconnected digital world. WiFi is built right in, so you can share files easily with the Olympus Image Share app; even cooler, you can operate the zoom, adjust ISO and white balance, select the shooting and drive modes, activate the self-timer, and even select the autofocus point and trip the shutter, all from your smart device – great for wildlife photography and including yourself in group shots. The TG-3 also has a built-in electronic compass and next-generation GPS that accurately locates your position in 10 seconds and geotags photos (for mapping out your journeys).
Mountain panoramas are great, but sometimes you want to zero in on subtler forms of natural beauty (like snowflakes or dew). The TG-3 offers four different modes for macro shooting, including Microscope, Microscope Control (a maximum magnification of 44.5x is possible from a distance of 1cm), Focus Bracketing and Focus Stacking (in which multiple images, from foreground to background, are taken and the areas in focus are automatically merged into one perfect shot).