Remote Controlled Pan/Tilt/Zoom Camera with 3.5-Inch Screen
Introducing Keera, Levana's 3.5" touch panel Pan/Tilt/Zoom video baby monitor. The Keera monitor includes the ability to record video and take pictures of your little one while viewing the live performance from your monitor. A powerful battery will last up to 24 hours while you and baby catch up on your extra winks. Touch panel buttons and simple graphic icons make selecting any of the many features easy and intuitive, even if you are distracted. Trust the Keera monitor to shed some light on the freedom of doing more knowing your child is safe.
Capture precious moments as they are happening with your choice of recorded video or still photos on the included 2GB micro SD card. No need to scramble for a camera! Now you can simply record your little sweetheart's latest accomplishment, transfer to your home computer, and share with family and friends.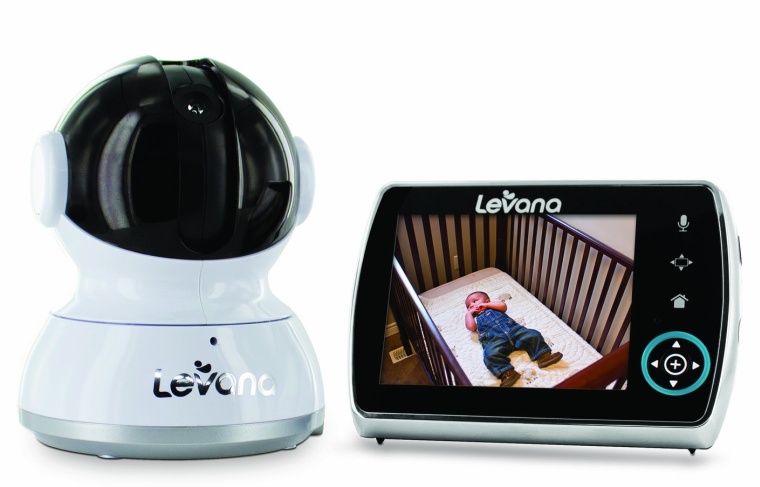 Calm your baby with the sound of your own voice with two-way Talk to Baby intercom. Parents love this feature for communicating to each other when they need some help in the nursery. Babies love this feature because they know when you are coming to the rescue.
The sleek profile of this monitor features a touch panel control that responds to your quickest and most feather-light commands. Navigate effortlessly though the features in the simple to understand icon menu, select one of this monitor's many features and customize specifically for your family's needs. This model is also equipped with a button lock feature, so when you are not intending to activate controls, simply set it to lock.
Invisible infrared LEDs provide a clear image of your child in the dark up to 12ft away. Your baby will sleep more soundly without the distracting red LED lights found on traditional baby video monitors. Rest assured knowing you can see your baby clearly, any time of day or night.