Lenovo IdeaCentre Desktop
From its futuristic, cutting-edge design to its overclocking-enabled processor, Erazer X510 was built for gaming. The X510 boasts the latest 4th Gen Intel processors, blazing-fast NVIDIA graphics, and plenty of storage. But that's not all — with OneKey Overclocking, you're in control when it comes to pushing processing to the limit. If you're an avid gamer or a regular user of multimedia-intensive applications, the Erazer X510 is an ideal choice right out of the box.
At a Glance:
• Futuristic Design – Armor design with LED lighting
• OneKey OverClocking – increase processing speed with the click of a button
• Lenovo Cooling System – uses conduction for optimal performance
• Exteme Gaming with NVIDIA – enjoy ultra-fast frame rates for the latest gaming titles
• Massive Expandability – engineered for easy, after-purchase expansion.
• Lenovo Gaming Keyboard and Mouse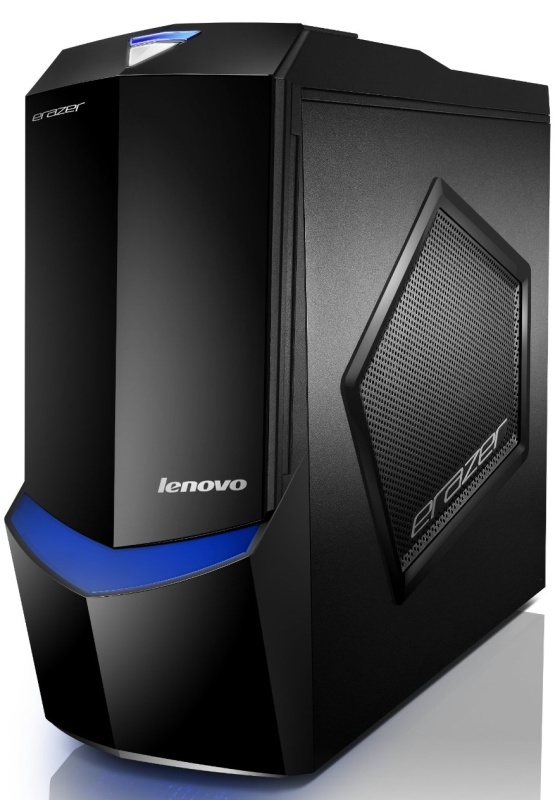 Easily install up to 4TB of additional storage space. A hot-swap external drive bay makes this especially seamless, allowing you to plug in additional storage without powering down. Or add the extreme gaming hardware of your choice, whether it be a a 5.25″ unit like an additional hot-swap bay, RAID 0 storage, or additional memory.
Enables file transfers up to 10 times faster than previous USB technologies, allowing for lightning-fast copying of large media files, as well as seamless connections between audio- and video-related peripherals. Backward-compatible with USB 2.0 devices. Front-located always-on USB charging lets you charge devices even when the PC is powered off.
Protect your important files and data, while also making access to information and file-sharing quick and convenient. Automatically back-up and synchronize data across your home, while enabling access from multiple devices. Data is encrypted on transfer for an extra level of security.