Olympus Stylus 16 MP Digital Camera
A secluded beach. A trip to the zoo. The kids trying out new snowboards. Active lifestyles generate great photo ops – and there's no better camera for capturing these special moments than the new TG-850. It's super-rugged and waterproof, yet stylish enough for less "extreme" pursuits – like documenting your daughter's first lacrosse goal. The TG-850 has a super-sharp wide-angle lens, a 180-degree swivel LCD monitor (selfie alert!) and high-def video capability. Quite simply, it's a terrific all-around camera.
Conditions can be a little rough when you live life outside. That's why we engineered the TG-850 to be a very tough outdoor camera. Waterproof (to 33ft/10m), shockproof (to 7ft/2.1m), crushproof (to 220lbf/100kgf) and freezeproof (to 14°F/-10°C), the TG-850 is built to operate flawlessly in extreme conditions – which means you won't have to worry about a little rain during a bike ride in the local park.
A tilting LCD monitor makes it much easier to do things like taking shots from strange angles. But a 180-degree swivel monitor on a waterproof camera like the TG-850 also lets you shoot cool half-in-the-water shots of fish swimming by under a bright blue sky, or your goofy friend Mark pretending to be a fish. It also makes taking really good selfies a snap; in fact, if you mount it on your surfboard or mountain bike, you can find out what your "action face" looks like!
The TG-850's super-wide 21mm (equivalent) lens captures 25% more of whatever you're shooting than the 28mm versions on other rugged cameras. Your images will be more panoramic, and you don't have to move backward to capture more of the scene – particularly useful when you're standing on a cliff! You can also fit more friends into the selfies and group shots you'll undoubtedly be taking to preserve the memories of your outdoor adventures.
Videos are obviously a great way to capture live action. But sometimes you want a series of dramatic stills instead. The TG-850's interval shooting feature allows you to do just that. Shorter intervals are great for capturing each step of an action sequence, or you can set the camera for longer intervals and stitch the images together into a time-lapse movie (software required). You can even mount the camera on your bike or helmet for hands-free convenience.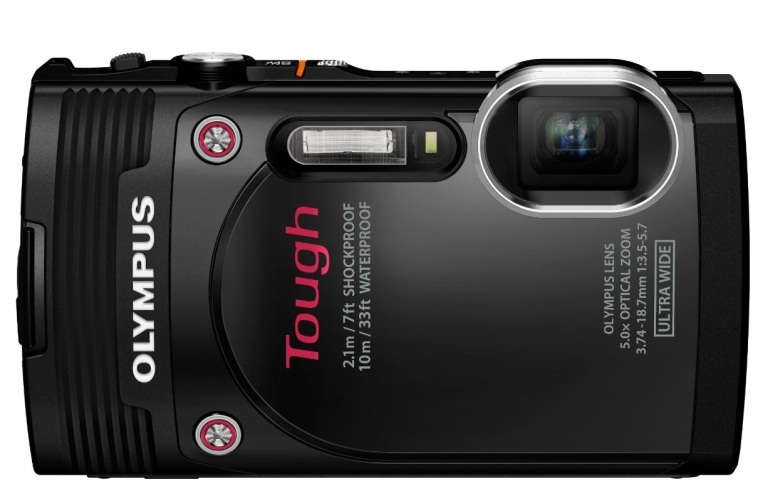 Combine a newly developed, powerful DSLR-quality image processor (TruePic™ VII) and a best-in-class BSI CMOS sensor, and you've got a camera that provides blazing fast autofocus, superb low-light performance and accurate subject and scene recognition (thanks to the enhanced iAUTO feature).
It adds up to iHS – Intelligent, High Sensitivity, High Speed – and the TG-850 has it, offering dramatically improved image quality from a camera you can take to the ends of the earth – or to the pool party down the street.