Sony a7R Full-Frame 36.4 MP Interchangeable Digital Lens Camera
Sony's Exmor image sensor takes full advantage of the Full-frame format, but in a camera body less than half the size and weight of traditional full-frame DSLRs.
The newly developed 36.3-megapixel 35mm full-frame Exmor® CMOS sensor delivers unbelievably high resolution in combination with high sensitivity and extremely low noise. Sony removed the optical low-pass filter to bring out the full potential of the sensor and lens, thus achieving an enhanced sense of clarity with supremely realistic details to the very edges of your photos. An AR coating also reduces flare and ghosting.
Sony optimized the design and positioning of every on-chip lens (OCL) covering every pixel to significantly enhance light-gathering efficiency. A gapless on-chip lens design eliminates the gaps between the micro-lenses to collect more light. Moreover, each on-chip lens is optimally positioned depending on its location to accommodate the sharper angle of light entering the periphery, which is caused by larger sensor dimensions being teamed with the E-mount's short flange-back distance.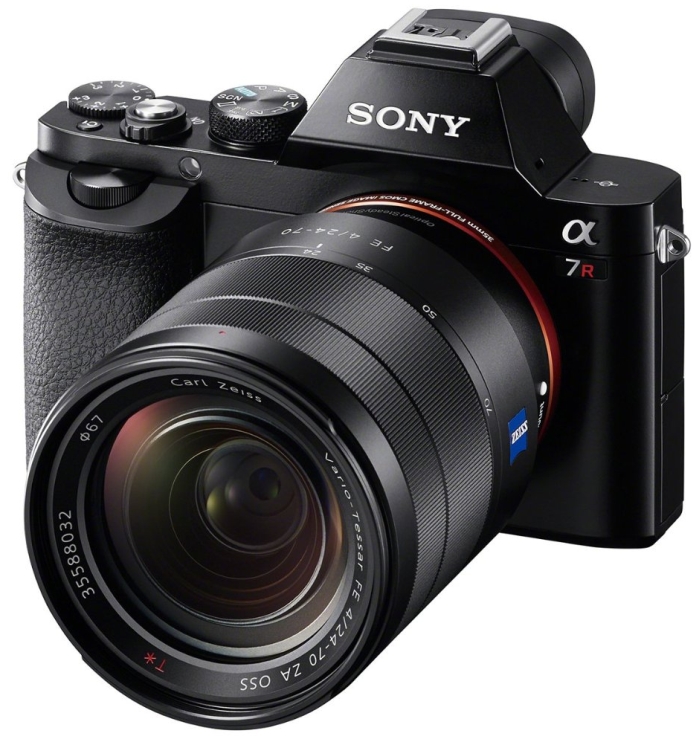 View every scene in rich detail with the XGA OLED Tru-Finder, which features OLED improvements and the same 3-lens optical system used in Sony's flagship a99 DSLR. The viewfinder faithfully displays what will appear in your recording, including the effects of your camera settings, so you can accurately monitor the results. You'll enjoy rich tonal gradations and 3 times the contrast of the α99. High-end features like 100% frame coverage and a wide viewing angle are also provided.
Remote Camera Control allows you to control your α7R from your PC using a USB cable. Feature control has also been updated to include video capture control.
14-bit RAW output for rich tonal gradation
14-bit RAW image data of extremely high quality is outputted by the α7R. This data fully preserves the rich detail generated by the image sensor during the 14-bit A/D conversion process. When developed with Sony's Image Data Converter RAW development software, these images deliver the superb photographic expression and rich gradation that only 14-bit data can offer.