Parrot Flower Power is a sensor that can be "planted" close to a plant, indoors or outdoors, in a pot or in open ground. It precisely measures, in real time, the parameters that are crucial for the growth and good health of plants: soil moisture, fertilizer, ambient temperature, and light intensity. Plants have vital needs, and Parrot Flower Power uses advanced sensor technologies to monitor the plants' welfare through a range of parameters. Using the data gathered every 15 minutes by the four sensors, users are able to understand the exact requirements of their plants.
The materials chosen for manufacturing the Flower Power ensure the product is watertight and robust. The Parrot Flower Power can be used both inside and outside (from -10 °C to 55° C). Waterproof, it can withstand watering, rain, and liquid fertilizer. Put it in the ground or in a pot and monitor the changes in your plants and garden.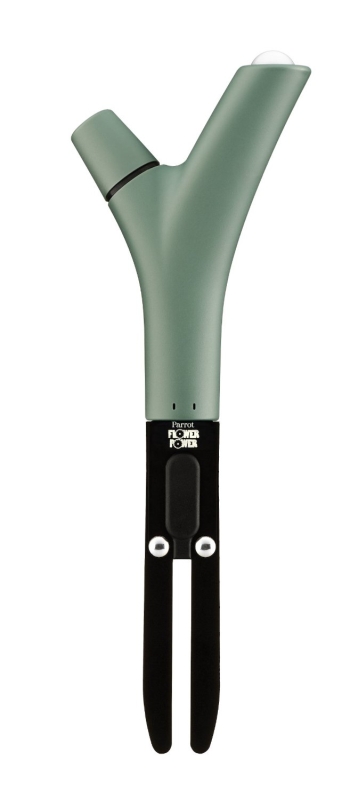 The data retrieved by the Parrot Flower Power is sent to your Smartphone or Tablet using Bluetooth low energy technology, allowing it to communicate with Bluetooth Smart Ready devices. Bluetooth Low Energy is a wireless technological standard which consumes very little energy. When you are near your Flower Power, you can use Live mode to check the light intensity, ambient temperature, and soil humidity.
Every 15 minutes Flower Power measures four data sources and stores the data in its memory. Every two hours Flower Power sends data to your Smartphone via Bluetooth Low Energy. If you are not within Bluetooth range, it keeps the data in its memory until you are back within range (data kept for up to 80 days). Alerts are sent to your Smartphone each time one of your plants needs attention.
There is no need to be near your Flower Power to get the notifications. A Parrot Flower Power can monitor several plants in the same pot, in a planter or on a small plot of land if the conditions of watering, soil drainage, and exposure to the sun and wind are uniform.