K'NEX Angry Birds Party Smashers Building Set
Bring the Angry Birds app to life. With the Party Smashers building set you can actually build and destroy a level from the original Angry Birds game. Launch the birds to destroy the evil Minion Pigs. Includes a working launcher just like the game, 200 parts to build and knock down and a bonus Birthday accessories. Also included are sounds from the game. Everything included works with other K'NEX Angry Birds sets. Perfect for builders ages 7 plus.
Calling all Angry Birds fans! Now you can bring the Angry Birds experience from your smartphone to real life. With the Party Smashers Building set from K'NEX, you can build and play in the world of Angry Birds right in your living room.
Launch your favorite birds to knock down the pigs and beat the level. Create your own level with the parts included. The set includes a working launcher with sounds from the game, plus enough parts to build a level and knock it down. Perfect for Angry Birds fans ages 7+.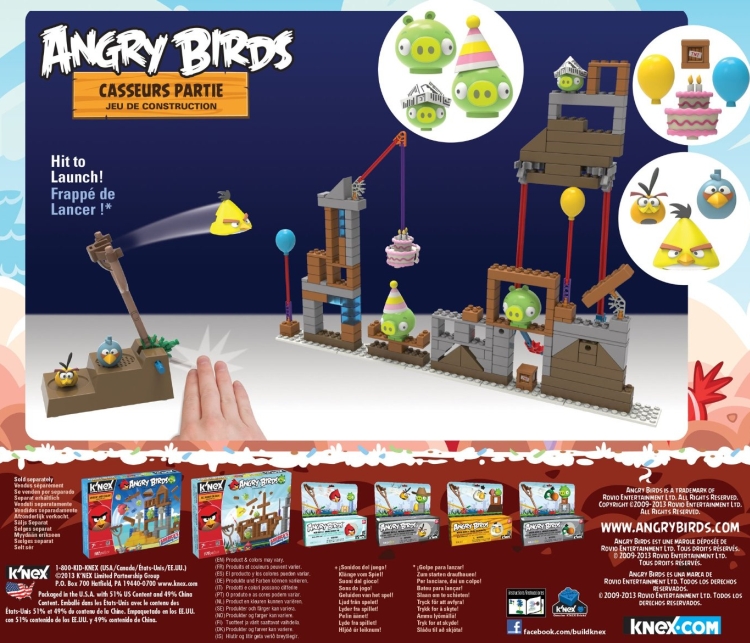 Build, Play, Knock Down! Inspired by the "Bird-Day" theme episode in the Angry Birds game, this set includes unique birthday pieces such as balloons, cakes, and birthday hats.
Use the special-edition launcher that includes sounds from the game. Launch Chuck, The Blues, and Bubbles at the evil Minion pigs. Knock down the structure and you win. With 218 pieces to build and knock down, the fun never ends. This set is sure to delight Angry Birds fans of all ages.
Just like the game, the buildable launcher allows you to shoot the birds with ease to knock down the pigs. As an added bonus you can hear the sounds from the game as you play.
Turn on the launcher and you are ready to go. The sounds included are the Angry Birds theme music, the slingshot stretching, and the bird flying. Each sound is triggered by its appropriate action. Pull back the slingshot and hear the stretch sound or shoot the bird and hear it fly. Use the launcher to aim and fire the birds at the structure to knock down the three evil pigs. Build and rebuild for hours of fun. Detailed building instructions are included inside.