Orbotix Sphero 2.0 App Controlled Robotic Ball
Sphero 2.0 has been completely re-engineered from the ground up to give you an entirely new gaming experience. It's kind of like Einstein and C-3PO had a baby. Powered with new AI Superdrive capabilities, Sphero 2.0 is unreasonably fast, reaching speeds of up to 7 feet per second. That's twice as fast as the original and only slightly slower than a Lamborghini.
Trust us, this thing hauls. And just like a racecar, every aspect of the internal robot has been re-configured for optimal performance, including a more efficient drivetrain and lowered center of gravity. With new multicolor LEDs, Sphero 2.0 is 3x brighter than before. You'll need sunglasses to make sure the brilliance doesn't blind you.Powered by induction charging to give you over an hour of full-throttle play, Bluetooth connection, and upgraded firmware, Sphero 2.0 will change the way you play.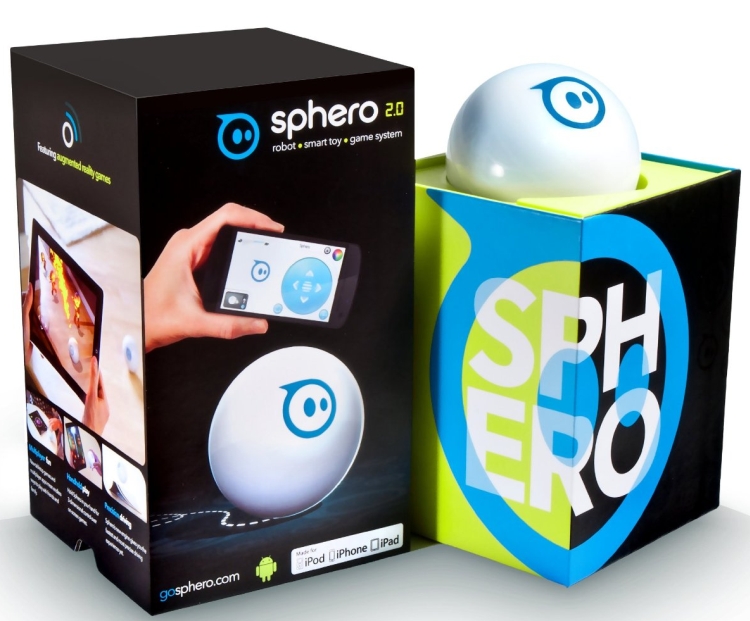 Sphero immerses you in a new type of gameplay called mixed-reality, in which real and virtual elements are seamlessly merged together. With over 25 apps available for download and more on the way, Sphero provides you with plenty of gaming thrills.
Standout apps include The Rolling Dead, in which you look through your device's camera and watch your living room floor, driveway, or any place you choose become infested with the undead in an augmented reality twist on the zombie craze. In a mixed-reality version of golf, you create a hole, then swing your phone to putt Sphero towards the hole. Think Sphero just rolls? Think again. Hold Sphero in your hand, start up Chromo, and move Sphero to match colors and patterns as they appear on your screen.
Sphero is compatible with a variety of mobile platforms, including iOS 4.0 or greater, Android 2.2, Android 2.3.3+, and Android 3.0+. Sphero also has an Open API (application program interface) for developers, which allows virtually anyone to program new games and apps for Sphero. The API is user friendly, so you will be able to use it whether you are a seasoned developer or a novice app programmer.