New Kindle Fire HDX 8.9″ 16GB Tablet
Exclusive 8.9″ HDX display (2560×1600) with unsurpassed pixel density (339 PPI) and perfect color accuracy (100% sRGB) for vivid, lifelike images that go beyond standard HD
Breakthrough ultra-light design—weighing just 13.2oz, it's 34% lighter than the previous generation
Ultra-fast 2.2GHz quad-core processor—3x more powerful than previous generation—with 2GB of RAM and Adreno 330 GPU for fast, fluid gaming and video
Introducing the "Mayday" button—revolutionary, on-device tech support, exclusive to Kindle Fire HDX tablets. Connect for free to an Amazon expert 24×7, 365 days a year
8MP rear-facing camera with LED flash for high-resolution photos and 1080p HD video, plus a front-facing 720p HD camera for Skype video calls and more
Stay productive on the go with ultra-fast web browsing, built-in OfficeSuite, plus e-mail and calendar support for Gmail, Outlook, and more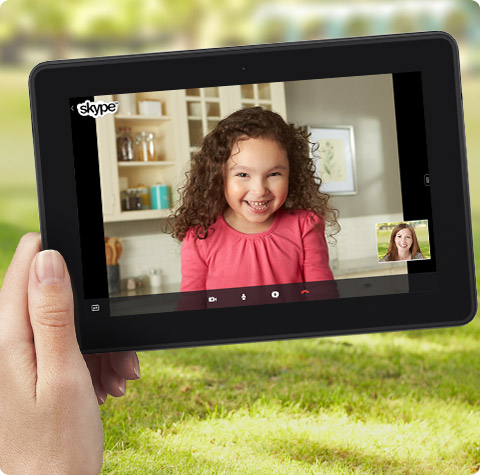 Kindle Fire HDX 8.9″ has the highest resolution (2560×1600) and the best pixel density (339 ppi) of any Kindle Fire tablet, providing an incredible multimedia experience. The HDX display features over 4 million pixels for vivid, lifelike images that go beyond standard HD.
Both the 7″ and 8.9″ Kindle Fire HDX displays feature perfect color (100% sRGB), displaying images and videos as the photographer or videographer intended.
At 13.2 ounces (13.5 ounces for 4G version), the Kindle Fire HDX 8.9″ is 34% lighter than the previous generation.
To achieve this revolutionary light weight, Amazon integrated the capacitive touch layer directly into the glass display, and created a unique magnesium unibody from a single piece of machined magnesium and a blend of glass and nylon—the same material used in high-performance race cars. The result is a light, durable, portable tablet.
Kindle Fire HDX 8.9″ features an 8MP rear-facing camera that allows for high-resolution photos and 1080p HD video.
The rear camera includes an LED flash, Electronic Image Stabilization to remove hand jitters, a wide-aperture lens, and support for panorama and High Dynamic Range (HDR) imaging. Our updated camera app also includes photo editing features and a new camera mode with filmstrip.
When it comes to HD content, bandwidth is everything. Without it, you get video buffering, slow downloads, and dropped connections. Kindle Fire HDX solves this issue by using state-of-the-art dual-band, dual-antenna Wi-Fi. With this, you'll enjoy fewer dropped connections and faster media streaming, plus you'll be able to go further from your wireless hotspot than with other tablets.
Kindle Fire HDX features the latest 4G LTE technology for ultra-fast mobile broadband, letting you connect to the internet, stream, and download at speeds even faster than Wi-Fi. Kindle Fire HDX supports multiple bands ensuring that you always have the best and fastest possible connection on AT&T's or Verizon's expansive 4G LTE wireless network.