All-New Kindle Fire HDX 7″ Tablet
Kindle Fire HDX is perfect for work or play, with the fastest processor on a 7″ tablet, the latest graphics engine, world-class Dolby audio, and a highly portable form factor
Kindle Fire HDX tablets are the first tablets to be powered by the 2.2 GHz quad-core Snapdragon 800 processor, making them the first to clock in at over 2 GHz. It provides 3x more processing power than the previous-generation Kindle Fire HD and, combined with 2GB of RAM, provides faster app launches, faster website load times, smoother multi-tasking, and better overall performance.
Kindle Fire HDX has a high resolution display (1920×1200) and high pixel density (323 ppi) for an incredible multimedia experience. The display features over 2 million pixels for vivid, lifelike images that go beyond standard HD.
Both the 7″ and 8.9″ Kindle Fire HDX displays feature perfect color (100% sRGB), displaying images and videos as the photographer or videographer intended.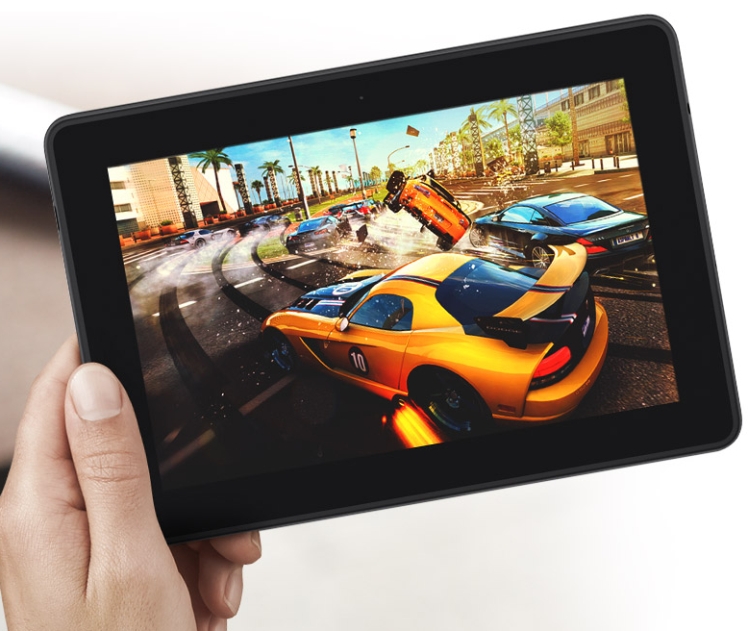 Simply tap the "Mayday" button to be connected for free to an Amazon expert who can co-pilot you through any feature by drawing on your screen, walking you through how to do something yourself, or doing it for you—whatever works best. Mayday is available 24×7, 365 days a year, and it's free. Throughout the process, you will be able to see your Amazon Tech advisor live on your screen, but they won't see you. 15 seconds or less is the Mayday response time goal.
Kindle Fire makes it easy to keep favorite photos and personal videos close at hand. Download your albums from Facebook, or add photos and personal videos (up to 20 minutes long) to Amazon Cloud Drive from your PC, Mac, or phone. Editing on your Kindle Fire is just as easy—simply select a photo to begin editing or use one of many popular apps in the Amazon Appstore.
COMING SOON—Fling movies and TV shows from your tablet to your big-screen TV using Second Screen. This turns your TV into the primary screen, freeing up your Kindle Fire to provide playback controls, a customized display for X-Ray, or simply be a place to email, browse the web, and more while you watch a movie. Second Screen will be available starting in October for PlayStation 3 and Samsung TVs, and later this year for PlayStation 4.