Bicycle Electric Foldaway Bike with Lithium-Ion Battery
Truly an all-around bike it can be used as a standard push bike relying totally on your own pedal power or in assistance mode, this will kick in once you initiate the pedal motion, enhancing each rotation, propelling with more speed and less effort. Alternatively the fully powered setting will allow you to propel from stationary to an optimum cruising speed without any physical exertion.
These folding bikes offer quality and portability teamed with strength, power and versatility which has never been matched. The bike folds at a mid-point on the cross bar and the stem of the handle bar with a unique quick-lock-release system. This system makes sure the bike can be folded and assembled in under 5 minutes while maintaining an unfaltering, strong frame when ready for use. The bike is fitted with a tilt-lock seat which facilitates easy battery removal for charging.
List Price: $1,900.00
Price: $1,299.99
Sale: $699.99
You Save: $1,200.01 (63%)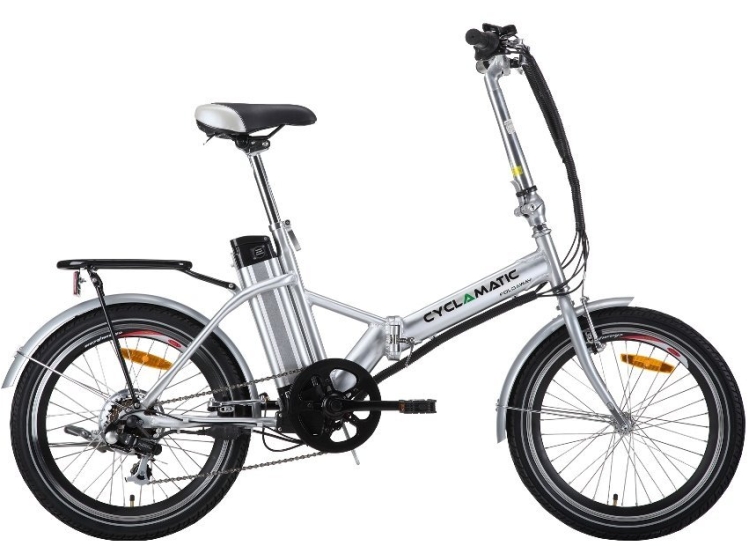 Quick release front wheel. Fitted with a 250w motor the foldable bike will easily assist you to travel at the 15mph road speed limit, with maximum speed of 13 mph. The brushed motor is extremely low maintenance promising a healthy motor life.
Capable of a 20 miles range on normal terrain, no wind and light loads. The upgraded 24V and 10AH lithium-ion battery provides huge power you can rely on when you need it with a very low self-discharge rate. Twist-shift accelerator and thumb shift 6 speed Shimano gears. Fully sealed battery is safe to use under most conditions.
Can be used as a regular bike. Shimano Tourney SIS-index gears. Polished aluminum frame. Quick release battery. Quick release front wheel. Spring loaded kickstand. Handy luggage rack. Front and rear fenders. Bell and reflectors. Every Cyclamatic electric bicycle comes with a 12-month warranty against manufacturing defects in materials or workmanship on its frame, battery, controller and motor assembly. Bike weighs 51 lbs including battery.