All-New Kindle Paperwhite
Wi-Fi, All-New Paperwhite Display, High Resolution, High Contrast, Next-Gen Built-in Light. $119.00
Unlike tablets, Kindle Paperwhite is designed to deliver the best reading experience:
No screen glare in bright sunlight
Read with one hand—over 30% lighter than iPad mini
Battery lasts weeks, not hours
Next-gen built-in light—read without eyestrain
NEW—With Kindle Paperwhite's new Page Flip feature, you can skim page-by-page, scan by chapter, or skip to the end for a sneak peek without losing your place.
kindle Paperwhite can be used in English, Spanish, Brazilian Portuguese, French, German, Italian, Japanese, and Simplified Chinese. You can easily select the language that you are most comfortable with, and enjoy instant dictionary lookups in any of these languages.
Read Books in Other Languages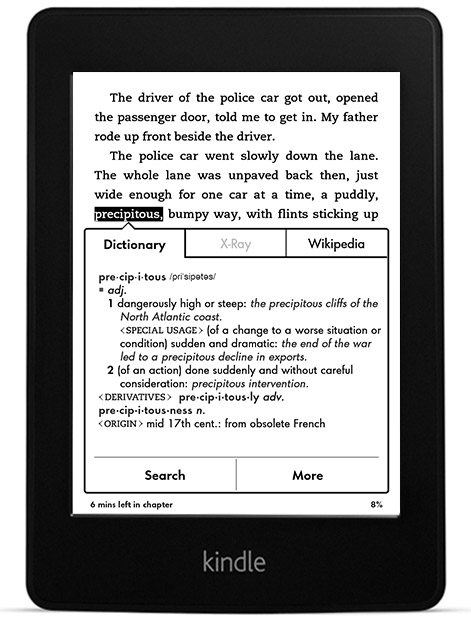 Kindle Paperwhite supports the display of non-Latin characters, so you can read books and documents in your favorite language, including enhanced support for Japanese and Chinese (Simplified and Traditional). Kindle Paperwhite also displays Korean, Cyrillic, Latin, and Greek scripts, and provides free access to several international dictionaries.