The Pop-Up RUKK NET and Mat Attack Golf Mat Package
The RukkNet comes with a 4 ply knotless ball returning net. No more mesh like other cheaper golf nets. Knotless netting allows the power from each impact to disperse efficiently. Fully replaceable and it attaches using t bars that fit into large grommets attached to the frame. The RukkNet is easy and FAST to set up and take down, large in size, durable, light-weight, and versatile. It pops-up instantly to let you practice multiple sports. Use one practice net for golf, baseball, softball, lacrosse, soccer and football.
List Price: $229.99
Price: $219.99
You Save: $10.00 (4%)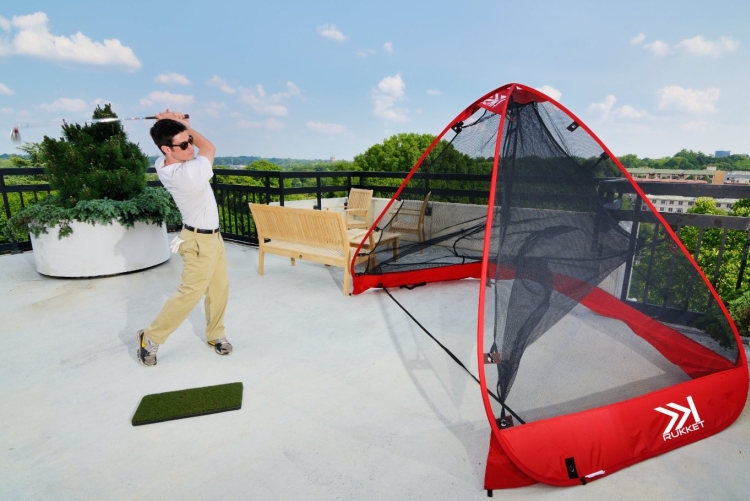 Use it inside/outside, backyards, basements, garages, patios, practice fields, league games. The RukkNet is ideal for perfecting your swing before the next trip to the golf course. The ball returns after each shot so no more bending down or carrying buckets of balls. You can stay in position and find your groove. Correct repetition is the key to a great golf swing.
Also a great tool for warm ups before a round. The RukkNet is made from high quality netting and a durable spring steel frame. The RukkNet is double stitched and built of the heaviest materials available. In other words it is built to last. Carrying case is thick canvas for long life, carries a hitting mat, golf balls, attachments and a golf club, it also has a comfortable shoulder strap for long hikes to your favorite practice spot. Folds flat into a 32″ diameter.