Rugged Military Standard Android Phone "Rhino Mini"
Military Standard MIL-STD-810G Rugged Android Phone featuring a 5MP Camera and a 3.5 Inch Screen that is also Waterproof, Shockproof and Dustproof making this the best strategic space saving device to take with you on an adventure.
With all the chaos in the world you need a phone built for whatever is thrown at it and this military standard MIL-STD-810G Android phone gives you just this as it is virtually indestructible. Charging through the rough plains is this "Rhino Mini" rugged phone with a conveniently sized with a 3.5 inch screen making it not too big to carry in your pocket like traditional ruggedized phones. Built to take the rough and harsh environment of the outdoors, the "Rhino Mini" MIL-STD-810G compliance means it has already faced rigorous vibration, drop and temperature tests to ensure it will withstand conditions found in the battlefield.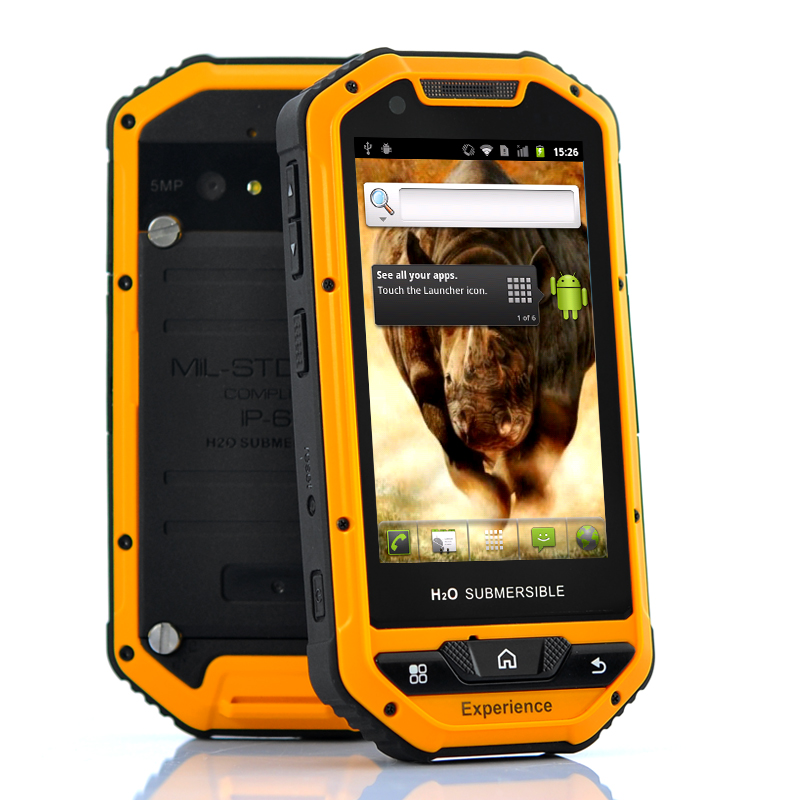 The "Rhino Mini" MIL-STD-810G standard also means it has been tested to work after having been dropped 1.2m on to plywood 26 times. The "Rhino Mini" in order to get the MIL-STD-810G standard needed to remain operational after being tested in the hottest days, with temperatures as high as 134 degrees Fahrenheit, and one for the coldest days likely to be found in the basic design areas as well as a test coping with high humidity conditions.
The advantages of this rugged phone is that you can throw it against a wall, drive a car over it, even drop it from great heights as it shockproof and it will still beg for more like if it was tied up in a fetish warehouse with a German dominatrix. A clasp is included in the accessories that allow you to attach the "Rhino Mini" to your outfit when you are hanging off a cliff and also it works with the whole outdoor toughness gimmick of the phone.