OLED multimedia video glasses
The integrated rechargeable battery provides power for up to six hours of viewing enjoyment even when away from the confines of your home. For example, while on a flight, you can watch several movies from your iPhone on the cinemizer multimedia video glasses. Connection possibilities The cinemizer multimedia video glasses can be used for various applications. Price: $796.23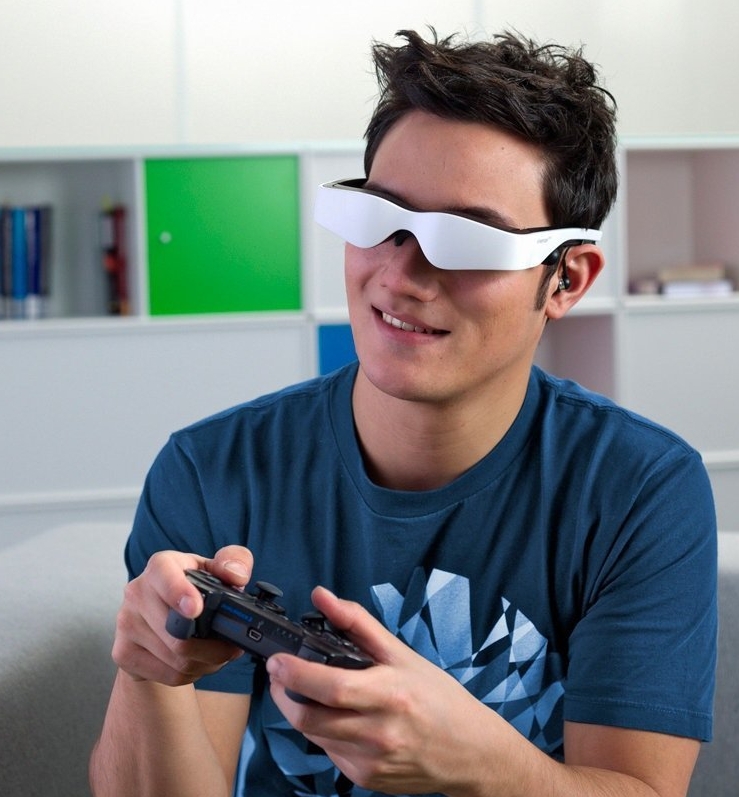 It can be connected to an iPod/iPhone, smartphone with HDMI or analog A/V interface, Blu-ray player, gaming consoles such as PS3 or XBox, PCs & notebooks, and other devices. This is all made possible by an HDMI adapter, a video cable (yellow cinch) and the optional iPod/iPhone adapter. Diopter adjustment Eyeglass wearers can configure their prescription from -5 to +2 diopters in each eye via the setting wheel.
Rich colors OLED displays create crisp images with very vibrant colors, true black and thus very good contrast. Wearing comfort Emphasis was given to a low weight and optimal wearing comfort during development of the cinemizer OLED.
The soft silicon nose pad allows the glasses to sit comfortably on your nose. The two soft rubber ear clips guarantee a good, comfortable sit, allowing you to use the cinemizer OLED for hours at a time. 3D support Various stereoscopic 3D formats are supported. These are side-by-side, top-bottom or line-interleaved such as Frame Packing via HDMI 1.4.