2-Slice/4-Slice Metal Classic Toaster
Toasting is a combination of cooking and drying of the bread. Therefore, differences in moisture level from one bread to another can result in varying toasting times. For slightly dry bread, use a lower setting than you normally would. For very fresh bread or whole wheat bread, use a higher setting than normal. Breads with very uneven surfaces (such as English muffins) will require a higher toast setting. Thickly cut pieces of bread (including bagels) will take longer to toast, sometimes significantly longer, since more moisture must be evaporated from the bread before toasting can occur. Very thick pieces may require two cycles.
List Price: $130.00
Price: $73.33
You Save: $56.67 (44%)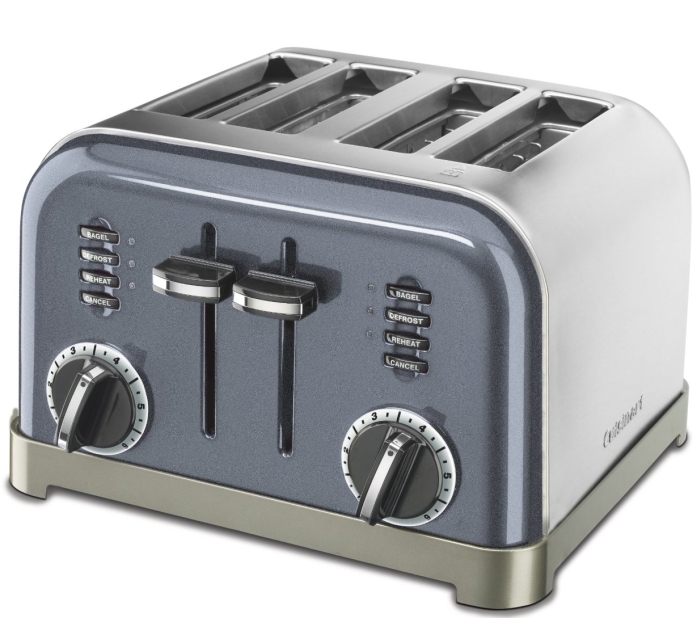 Always allow the toaster to cool completely before cleaning. Do not use abrasive cleansers. Simply wipe the exterior with a clean damp cloth and dry thoroughly. Apply any cleansing agent to a cloth, not to the toaster, before cleaning. To remove crumbs, slide out the crumb tray and discard crumbs. Wipe clean and replace. Never operate the toaster without the crumb tray in place.
To remove any pieces of bread remaining in the toaster, turn the toaster upside down and gently shake. Never insert any hard or sharp instruments into the slot, as this could damage the toaster and cause a safety hazard. Never wrap the cord around the outside of the toaster. Use the cord storage cleats on the underside of the toaster.