1000-watt Gardenmaster Food Dehydrator
Dry fruit and vegetables, herbs and flowers, granola or strips of jerky in hours instead of days with this 1000-watt food dehydrator. Top mounted fan eliminates liquids dripping into the heater chamber. New Digital Time is programmable for up to 48 hours. Expands up to 20 trays allowing you to dry large quantities all at once. Drying pressure adjusts automatically to the number of trays.
List Price: 159.99
Price: $124.77
You Save: $35.22 (22%)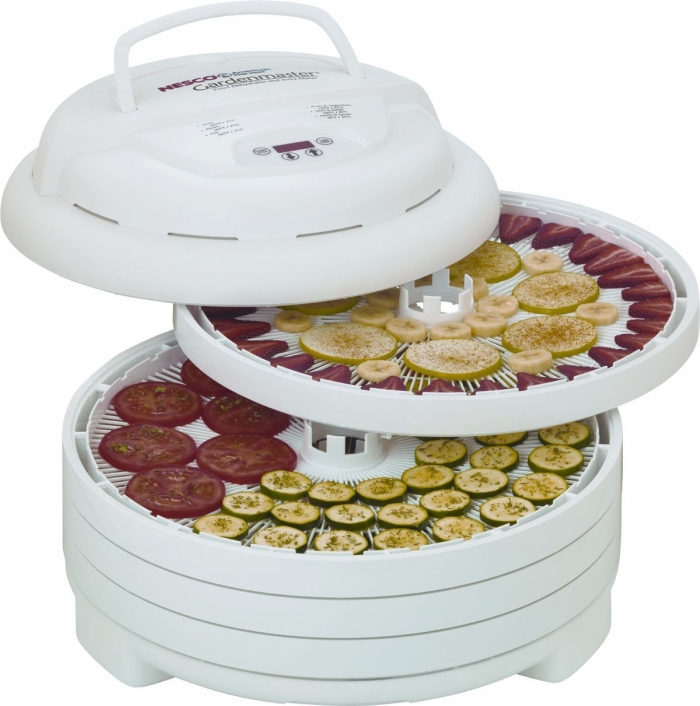 Patented Converge-Flow forces heated air down the exterior pressurized chamber, then horizontally across each individual tray, converging in the center, for fast, even and nutritious drying. Flavors don't mix, and there's no need to rotate the trays.
2,400 RPM fan motor is four times faster than dryers with no fan or motors. The unit's adjustable thermostat ranges from 90 degrees to 160 degrees F, providing the flexibility needed to ensure excellent results. Vita-Save Exterior features an opaque exterior which blocks light to retain more of the foods nutrients and vitamins during the drying process.